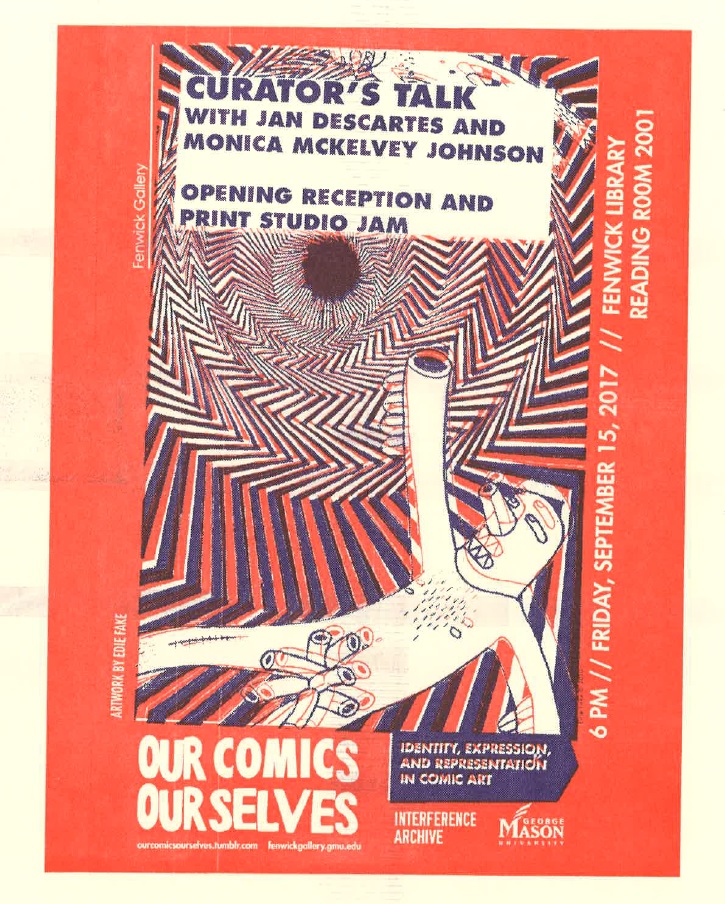 Curious about the stories behind Our Comics, Ourselves? Join us for a discussion with the exhibition's curators this Friday evening (9/15) at Fenwick Library!
Jan Descartes (she/her) and Monica McKelvey Johnson (she/her) will lead a curator's talk on the latest iteration of the traveling exhibition, Our Comics, Ourselves, which originated at Interference Archive in Brooklyn, NY.  Focusing on themes of authorship and identity, they will talk about the major works on view, and discuss the process of organizing Our Comics, Ourselves through their method of feminist curating. The presentation will be followed by an open discussion.
Before you join in, learn a little more about our curators: 
Jan Descartes is a Brooklyn-based artist, educator and curator.
She is a graduate of Syracuse University (BA), Carnegie Melon University (MFA) and anticipated graduate of CUNY Graduate Center, with a degree focus on Women, Gender and Sexuality Studies (MLS). She currently co-curates the Our Comics, Ourselves exhibition with Monica McKelvey Johnson, which focuses on identity and representation. Through her artistic, academic and professional life, art and accessibility has been a major theme, culminating in her current thesis regarding trauma and memory in public aesthetic spaces. Jan is co-creator and artist for the webcomic Heartland Comic, where personal memoir and identity politics meet comix. She is currently involved with planning/organizing outreach projects in NYC, where she hopes to facilitate DIY comic-making as an accessible means to explore personal experience and resistance in the everyday. She also lives with a sweet dog and an angry cat.
Monica McKelvey Johnson is a comic artist, writer, and curator living in Brooklyn.
She is a graduate of San Francisco State University (BA), and CUNY Hunter College's Integrated Media Arts Program (MFA). She authored the web comic The Adventures of Dorrit Little, a story about the average student debtor in the United States today, and founded the student debtor support group, EDU Debtors Union. She writes about comics from an intersectional feminist perspective for The Rumpus and The Comics Journal, and has co-organized several exhibitions at Interference Archive—including Our Comics, Ourselves,Take Back the Fight: Resisting Sexual Violence from the Ground Up, and an upcoming exhibition focusing on Deaf culture. She is a practitioner of "feminist curation," a methodology she continues to develop with Jan Descartes.