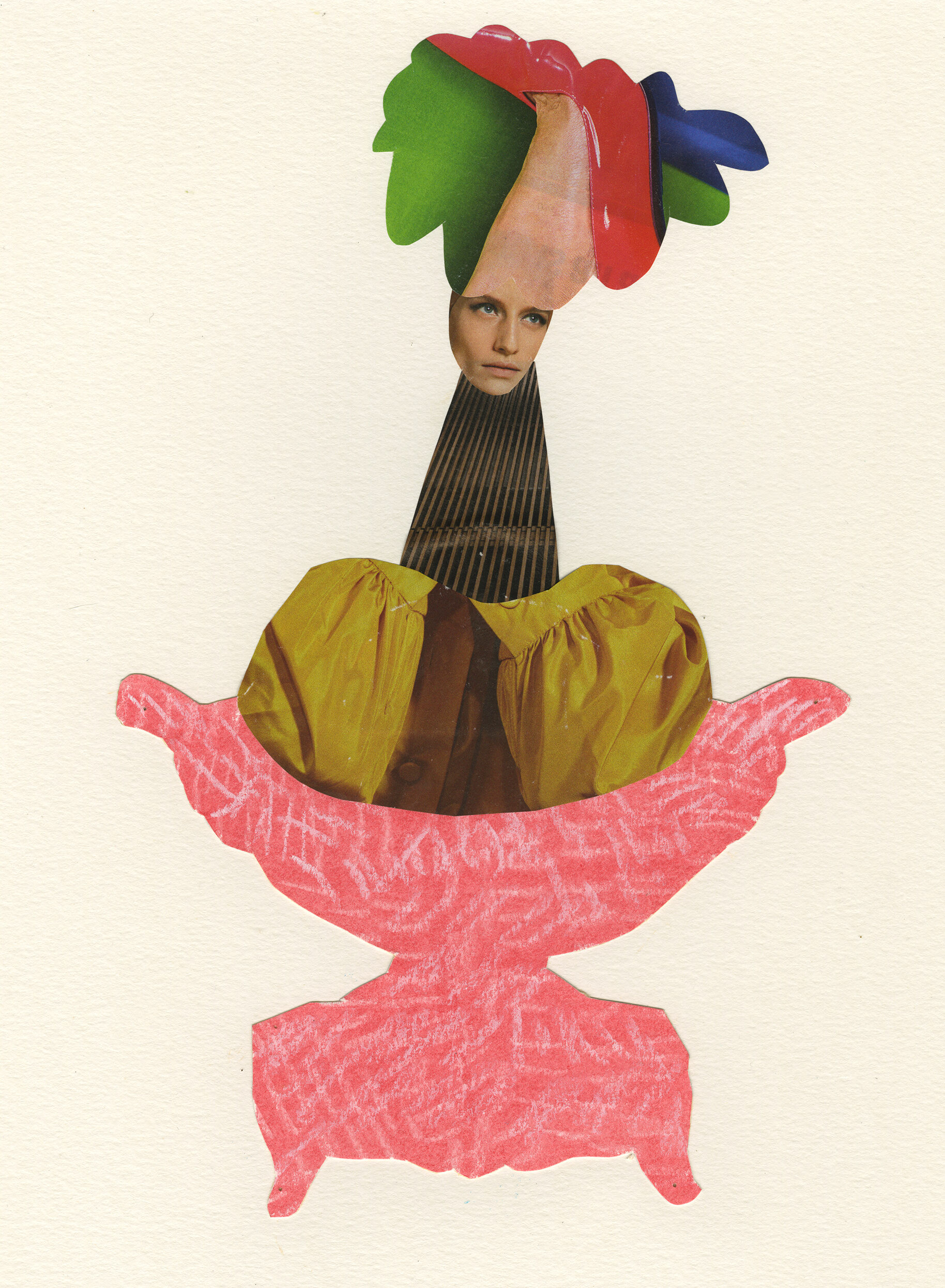 July 14 – October 9, 2022
About the artist
Exhibit Bookshelf
Money, Beauty, Rank: The Measure of All Things is a solo exhibition of the artist Stephanie Benassi's recent collage and assemblage-based works. Using fashion magazines, photogram techniques and paper, the work in the exhibit explores the intersection of representation, ornamentation, and beauty in history, media, and design.
Money, Beauty, Rank is co-organized by Stephanie Grimm (Art Librarian and Fenwick Gallery Manager) and Chen Bi (Fenwick Gallery Graduate Assistant & MFA student).
About the artist
Stephanie Benassi (Asst. Professor, School of Art) is a conceptual artist working primarily with photography. She uses photographic images and processes to conceptually engage the contradictions, limitations, and material conditions inherent to the photographic medium. Specific research, travel, and tactile experimentation are developed into gallery installations that incorporate a range of materials and methods including documentary photographs, chemical process-based works, collages, and sculptural elements that together create complex visual and material experiences. Her work draws from a diverse photographic vocabulary and an engagement with the medium's various historical trajectories in genres such as landscape, forensics, Victorian memento mori, occult, and camera-less photography. Through these diverse refences, materials, and stylistic elements, Benassi investigates the ways in which the material conditions and specialized languages of the photographic medium shape our relations to history, power, and the production of images.
Benassi's work has been featured in numerous solo and group exhibitions at venues including the Virginia Museum of Contemporary Art, New Image Gallery at James Madison University, Full Circle Gallery (Baltimore, MD), Gallery B (Bethesda, MD), Decker Gallery at Maryland Institute College of Art, and 1708 Gallery (Richmond, VA). She was selected as a finalist for the 2020 New Waves exhibition at Virginia Museum of Contemporary Art and the 2019 Bethesda Urban Partnership's Trawick Prize. Her art work has been featured on Artworks "Pop-Up Exhibitions" for Maryland Public Television / PBS. She has participated in artist residencies including Vermont Studio Center and Virginia Creative Center for the Arts. Benassi holds an MFA in Photography and Film from Virginia Commonwealth University and a BFA in photography from University of Massachusetts Dartmouth.
With over a decade as an instructor at Mason, Benassi teaches a wide range of studio courses and seminars, including beginning and advanced digital and darkroom photography, introduction to New Media, Professional Practices, and Visual Thinking.
Benassi is based in Linden, VA, where she lives with her husband and son.
Recommended Readings