Monday, September 18, 10:00am
Fenwick Library Main Reading Room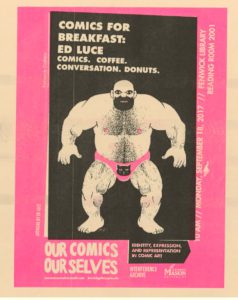 Fresh from Small Press Expo, we're pleased to host artist and designer Ed Luce, creator of the comics series Wuvable Oaf. Luce has been nominated for multiple Ignatz Awards and is winner of the 2017 LAMBDA Literary Award for Best Graphic Novel. He lives and works in San Francisco and teaches at California College of the Arts (CCA).
Join us for coffee, conversation, and donuts as Luce speaks about the evolution of his artistic practice (from painting to sequential art), the role of community in his work, and the business of comics and design.