October 26 – December 16, 2022
Abdulrahman Naanseh: The Kingdom of Red Lines is a solo exhibition of the artist's recent Arabic calligraphy on paper and canvas.
Abdulrahman (Abi) Naanseh's calligraphy is a personal response to the tangled narratives of religion and politics that characterize life in his native Syria. Grounded in classical forms while evolving his own stylistic methods, Naanseh has developed a practice that incorporates research and readings of ancient Arabic language and modern Arabic poetry, linguistic analysis of Arabic words and sounds, as well as direct experience of the social pressures engrained in religion and politics.
In each artwork or sequence of works, Naanseh starts with a single word or phrase. By repeating and altering their forms in a variety of styles, scales, layers, colors, and positions, he builds visual structures and motifs which compound and refract their potential readings. Like concrete poetry, Naanseh's calligraphic images can be appreciated on multiple levels as poetic formal abstractions and conceptually-driven commentary on the social circumstances of the artists' homeland.
In The Kingdom of Red Lines, Naanseh invokes the words of Syrian poet Ammar Hammoudi, calling attention to the "red lines" or dangerous boundaries drawn by culture, politics, and religion that people are forbidden to cross. These "red lines" are held in place by internal and external pressures: those at the top watch those below; neighbor watches neighbor; family watches family. Like mice in a maze, people are held within boundaries as they navigate life, forced to stay silent, and survive only by following the unspeakable rules. Through The Kingdom of Red Lines, Naanseh demonstrates the agony of struggling for survival under political taboos, the rejection to animalizing any group of people, and the longing for true peace and freedom.
The Kingdom of Red Lines is co-curated by Jeff Kenney (Mason Exhibitions), Stephanie Grimm (Fenwick Gallery), and Chen Bi (Graduate Research Assistant, Fenwick Gallery).
Events
Monday, November 14, 4:30-6PM
Opening Reception / Artist Meet & Greet
Fenwick Gallery
Wednesday, November 16, 6-8PM
"Uncovering the Kingdom of Red Lines": a conversation with Abdulrahman Naanseh and Mason faculty
Fenwick Gallery & Fenwick Main Reading Room (RSVP here)
About the Artist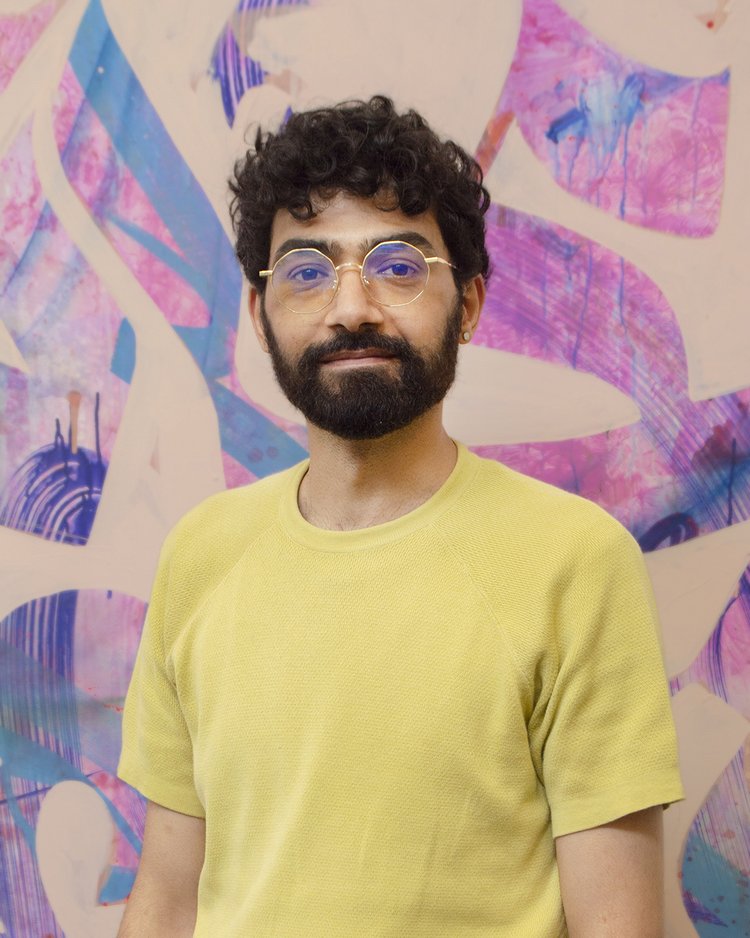 Syrian artist Abdulrahman Naanseh (b. 1991) learned Arabic calligraphy with the support of his father, a self-taught calligrapher. Naanseh has excelled in this field with exhibitions at the Arneli Art Gallery during the Beit Misk Festival in Beirut, murals at Damascus University, solo exhibitions in Syria in 2002 and 2005, and national Arabic calligraphy competitions.
Naanseh is an Artist Protection Fund Fellow and the 2022 Artist-in-Residence at George Mason University's School of Art. The Artist Protection Fund (APF) fills a critical unmet need by awarding threatened artists and placing them at welcoming host institutions in safe countries where they can continue their work and plan for their futures. APF places these artists in safe havens for a full year and provides fellowship funding, mentoring, and inclusion in a comprehensive network of artistic and social support.
View more of Naanseh's work on Instagram, @_naanseh