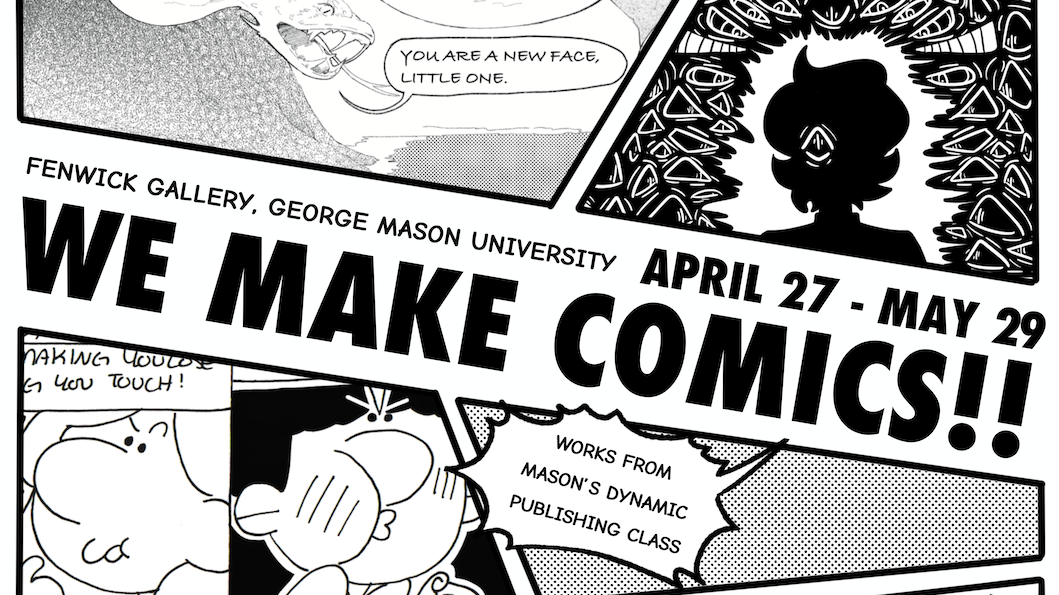 April 27 – May 29, 2022
About the exhibition
About the class
Contributing artists
Recommended readings
"Just start doing what you want to work on. If you want to make comics, don't try to talk to editors or write to companies, make your comic. Make it, and put it online. If people like what they see, they'll react and come to you.

Ming Doyle
About the Exhibit
"We Make Comics!" showcases the process of creating comics from first pitch through final print, and features work from the inaugural DYNAMIC PUBLISHINGcourse in Mason's School of Art. Students in this class developed minicomics (short, self-published comics) in multiple genres, from science fiction to fantasy and slice-of-life. These artists worked in a range of media through the sketch and design stages and produced the final version of their comics using Risograph printing. The exhibition presents story outlines and notes, character sketches, and rough drafts alongside the finished minicomics, demonstrating the breadth of the creative process and showing how much a story can change during development and final printing.
About the class
DYNAMIC PUBLISHING is a course that focuses students on developing a steadfast process for creating their own publications. Students are introduced to the broad workflows of publishing, but also given space to develop and internalize their own working processes. The course supports this in two ways: students assist a visiting artist in the production of a new work, learning alongside an established creator; they also have the goal of realizing their own publications through final printing and distribution.
This semester, DYNAMIC PUBLISHING is focusing on producing comics and sequential narratives. The visiting artist, Adam Griffiths, is a D.C.-based cartoonist, illustrator, and curator, and has been assisting the students in the creation and curation of their comics for a printed anthology of short works, selected from the students' respective portfolios. The class will culminate with the publication of a new comic by Griffiths, with production assistance from students and faculty, printed in Mason's School of Art.
Featured Artists
Sarvenaz Anissi
Jordan Barnes
Chen Bi
Joseph Chaiko
Payton Crain
John Dietz
Taylor Dinh
Kaylyn Garvin
Larry Nguyen
Luan Nguyen
Sylvia Rossi
Ash Smith
Sara Syarto
Recommended Readings
coming soon