Have your tickets for tomorrow's closing talk for Our Comics, Ourselves with Spike Trotman and Ariell Johnson? They're free, and they're here! Register now to save your spot:
In the meantime, why not learn more about our speakers?
About Spike Trotman
C. Spike Trotman was born in Washington, D.C., raised in Maryland, and lives in Illinois. An artist, cartoonist, and bestselling writer, she founded Iron Circus Comics in 2007, which has since grown to become the Chicago region's largest comics publisher. Her notable work includes the webcomic Templar, Arizona, the Smut Peddler series of erotic comic anthologies, the #1 Amazon bestseller Yes, Roya, about a femdom threesome in 1960s California, and Poorcraft, a graphic novel guide to frugal living. A Kickstarter early adopter, she singularly pioneered the widely-adopted bonus model that's since completely reshaped the pay system of the small press, jump-starting the current renaissance of alt-comics anthologies. Iron Circus is also the first comics publisher of note to fully incorporate crowdfunding into its business model, inventing one of the single most effective uses of new media in comics publishing today.
Spike enjoys Korean food, feminist hip-hop, god games and hairless animals. She has a husband and a dog. Both are very good.
Check out Spike's interview with NPR's Code Switch, and featured press on the A.V. Club, Paste Magazine, and Women Write Comics.
About Ariell Johnson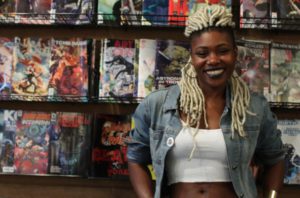 Ariell Johnson was born in Baltimore, MD, before relocating to Philadelphia to attend Temple University.  In December 2015, she opened Amalgam Comics and Coffeehouse, which was recently awarded a $50,000 Knight Foundation Cities Challenge grant to support a community comic education programs. "I got the idea for the shop when a coffee shop across the street from my local comic book shop closed. In the beginning, my goal was to create a similar kind of coffee shop. She had a dope, warm environment in there that I wanted to recreate. As I've gotten older and become more aware, I've used this platform to promote inclusivity in comics and other forms of geek culture."
Learn more about Ariell and Amalgam Comics on ABC News,  Bleeding Cool, and Philadelphia Magazine.