The Mother Knot

by
Call Number: HQ759 .L38 1997
ISBN: 0822320398
Publication Date: 1997-08-22
In this compelling memoir by a writer, mother, and feminist, Jane Lazarre confronts the myth of the "good mother" with her fiercely honest and intimate portrait of early motherhood as a time of profound ambivalence and upheaval, filled with desperation as well as joy, the struggle to reclaim a sense of self, and sheer physical exhaustion. Originally published in 1976, The Mother Knot is a feminist classic, as relevant today as it was twenty years ago.
Family Man

by
Call Number: PS3570.R5 Z467 1998
ISBN: 0374153248
Publication Date: 1998-05-01
The bestselling author of Messages from My Father deals with the subject of family is a way that is living, honest, and wildly funny.
Motherhood and Space

by
Call Number: HQ759 .M87382 2005
ISBN: 1403967857
Publication Date: 2006-01-08
This interdisciplinary collection explores the complex ways motherhood is experienced by studying the concrete and imaginary spaces mothers inhabit. The authors examine locations for birth, negotiations of domesticity, institutional framings of the mother's world, and maternal metaphors in art and popular culture. Using conceptions of space as a common lens, these essays articulate the interplay between motherhood as a cultural construction and motherhood as a lived experience. The collection as a whole reveals how the spaces of motherhood are varied, changing, and politically charged.
Portrait of the Mother-Artist

by
Call Number: PS374.M547 G47 2003
ISBN: 0739105442
Publication Date: 2003-01-21
Nancy Gerber revitalizes feminist theories of motherhood and creativity. She shows that the mother who is an artist in contemporary fiction is a working class character: one who develops an aesthetic of the ordinary, fashions political critique out of domestic metaphor, and sustains a rich interior life despite material poverty.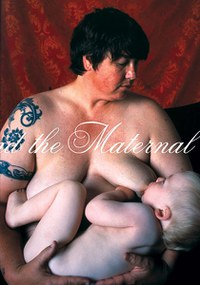 Feminist Art and the Maternal

by
Call Number: NX652.M64 L57 2009
ISBN: 9780816646227
Publication Date: 2009-01-12
Feminist motherhood is a surprisingly unexplored subject. In fact, feminism and motherhood have been often thought of as incompatible. Profound, provocative, and innovative, Feminist Art and the Maternal is the first work to critically examine the dilemmas and promises of representing feminist motherhood in contemporary art and visual culture. Andrea Liss skillfully incorporates theory with passionate personal reflections on the maternal, and in doing so she advances a fresh and necessary perspective on both feminism and art.
The Art of Domestic Life

by
Call Number: ND1313.4 .R48 2006
ISBN: 9780300110012
Publication Date: 2006-08-15
This book is the first to explore English family portraiture in the 18th century, a varied category ranging from small-scale conversation pieces to grandiose, full-length images. Kate Retford probes this much-loved genre to trace the values and meanings behind these compositions. While early images by artists such as Arthur Devis depicted sitters stiffly posed, later in the century scenes of affection and intimacy were created by portraitists like Thomas Gainsborough and Joshua Reynolds. In the country-house collections, portraits first emphasized ancestry and inherited virtue, but later emphasized the domestic merits of the family. The Art of Domestic Life contributes a wealth of visual evidence to the history of the family. It offers important insights into both the innovations and traditions in family portraiture of this period, drawing on in-depth research into paintings, the lives of the sitters depicted, and the domestic spaces in which portraits were hung. Published for the Paul Mellon Centre for Studies in British Art
Reconciling Art and Mothering

by
Call Number: N7630 .R39 2012
ISBN: 9781409426134
Publication Date: 2012-09-14
Reconciling Art and Mothering contributes a chorus of new voices to the growing body of scholarship on art and the maternal and, for the first time, focuses exclusively on maternal representations and experiences within visual art worldwide. This innovative collection joins the voices of practicing artists with those of art historians. Working against a hegemonic construction of motherhood, the contributors discuss diverse feminist mothering experiences around the globe, from maternal ambivalence to queer mothering to quests for self-fulfillment.