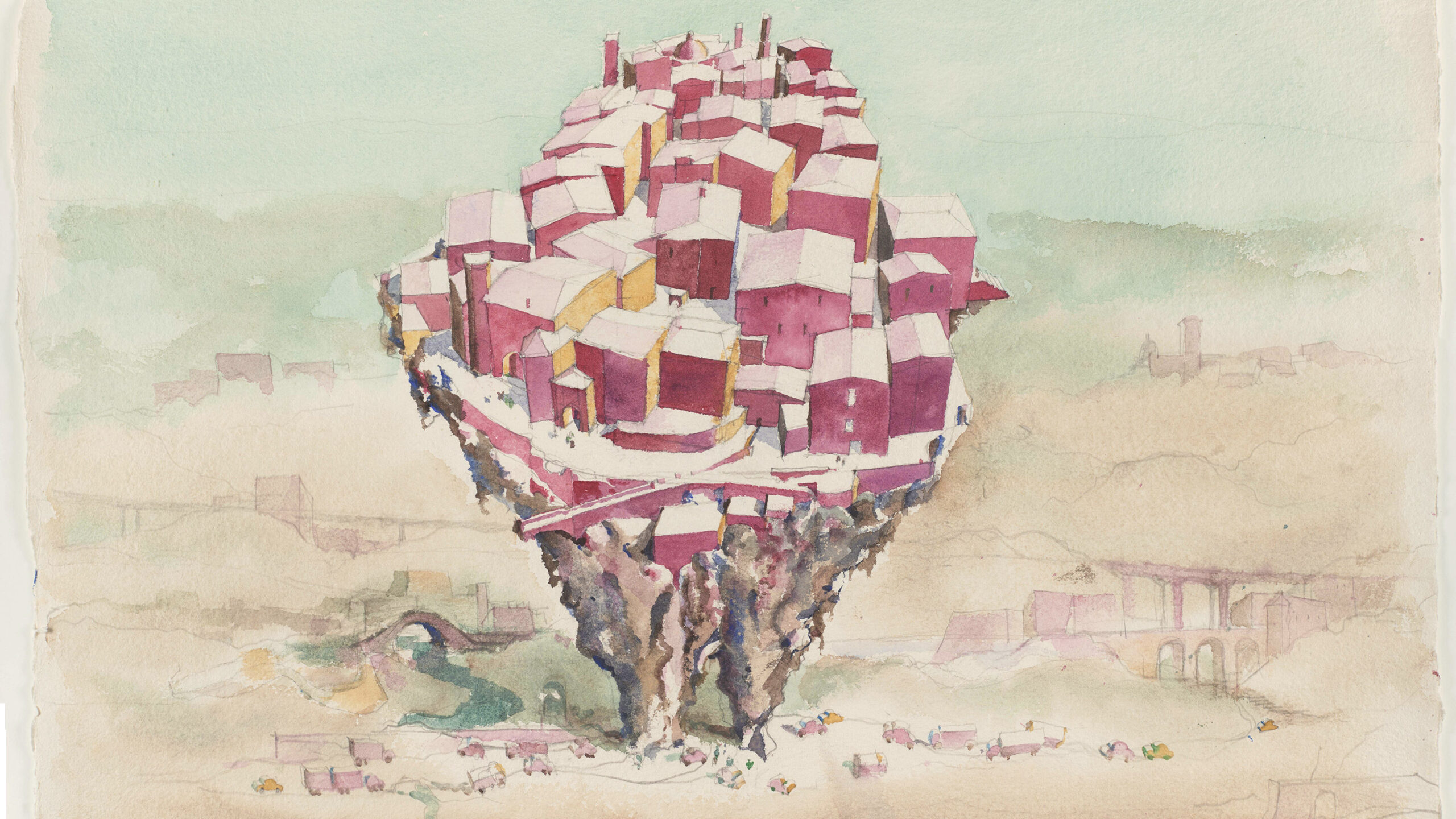 The Visionary Architecture of James Rossant with Poetry by Juliette Rossant
April 14 – June 30, 2023
About the Exhibit
About the Artist and Poet
Events
About the Exhibit
"[James Rossant's drawings] fly off the grid, off the wagon of rationality, into a surrealism and humor of imagination liberated from the right angle and architectural propriety. […] These are temperamentally joyous drawings, propelled by curiosity and a spirit of exploration."

Joseph Giovannini
Cities and Memory features the artwork of renowned architect and urban planner, James Rossant, displayed in conjunction with poems from a forthcoming book reflecting on his art by his daughter, Juliette Rossant, an author and resident of Reston, Virginia.
James Rossant (1932-2009) was a pivotal architect in the New Towns movement in the United States during the post-World War II era. New Towns aimed to address problems of urban overcrowding, air pollution, and decay by creating innovative suburban communities that would harmonize urban amenities in park-like settings. Rossant, with his partner William J. Conklin, devised the original master plan for Reston, Virginia in the early 1960s at the request of the developer Robert E. Simon Jr. Using proceeds from the sale of New York's Carnegie Hall, Simon purchased 7,000 acres of land in Fairfax County, Virginia for the development of Reston, the name of which derives from Simon's initials.
Rossant's master plan for Reston, based on New Town ideals, proposed an organic mix of housing types and densities, natural green space, water features, public sculpture, mixed-use buildings for convenient living, along with cultural facilities, schools, and churches. He believed that architecture could—should—be both beautiful and serve to build a better society.
The artworks in this exhibit range from 1972 to 2008 and give us insight into Rossant's prodigious imagination and the fantastical processes that underpin his subsequent architectural creations. His subjects vary widely, from modernist portraits to imaginary cities to pastoral landscapes. Uniting them is James' deep commitment to realizing utopian ideals and visions.
Juliette Rossant's poems are ekphrastic: they are responses to her father's paintings. They examine memories and reflections about her father's life and ideals as artist and architect. They also amplify her father's keen sense of play, whimsy, and intimacy. Cities and Memory features nine poems paired with paintings from Juliette's forthcoming book, Planet of the Blue Flowers, which will be published later this year by Finishing Line Press.
In 1991, the architectural firm Conklin Rossant donated their Reston archive to George Mason University's Special Collections Research Center in Fenwick Library. Selections from those archives appear in this exhibition and offer a glimpse into how Rossant integrated his visionary ideals into the built environment. In his paintings, architectural elements and whole cities are embraced as art forms. The boundary between architectural renderings and art disappears. For James Rossant, the two disciplines of painting and architecture were inseparable.
Cities and Memory is co-curated by Stephanie Grimm, Art and Art History Librarian, Donald Russell, University Curator, and Chen Bi, Graduate Research Assistant. Special thanks to GMU's Special Collections Research Center and Mason Exhibitions for additional exhibit support.
About the Artist and Poet
James Rossant (1932-2009) was an internationally acclaimed artist, architect, and town planner, who designed the original plans for the community of Reston, Virginia. His drawings and paintings of cities have been exhibited in many parts of the world.
Mr. Rossant's drawings have been published and reviewed in The New York Times, The New Yorker, Life, Progressive Architecture, Architectural Record, Architecture, Urban Design, L'Architecture D'Aujourd hui, Domus, Casabella,Urbanistica, Architectural Design, Le Monde, and in numerous books.
---
Juliette Rossant is an American author, journalist, and poet. Her writings about top-grossing celebrity chefs have appeared in Forbes magazine. Her online magazine, Super Chef, was edited into a book published by Simon & Schuster in 2004 which profiled Wolfgang Puck, Charlie Palmer, Todd English, Mary Sue Milliken and Susan Feniger, and Tom Colicchio.
Previously, Rossant worked as a journalist in Istanbul, Paris, Moscow, and Jeddah, where she wrote for newspapers and magazines, including Business Week. Her reporting included stories about Kurds in Northern Iraq during the Gulf War, fighting between Armenians and Azeris in Nagorno-Karabagh, and oil & gas in Central Asia and the Middle East.
Born in New York City, Juliette is the daughter of James Rossant, architect and designer of Reston, Virginia, and Parisienne cookbook author and food writer Colette Rossant. She received a BA from Dartmouth and MA from Johns Hopkins, where she studied Creative Writing. She started publishing poems in Extensions literary magazine when she was 14 years old. At Dartmouth, she co-founded The Stonefence Review. Her mentors include Richard Eberhart and Kenneth Koch.
Events
EKPHRASIS: A Celebration of Poetry and Art
Thursday, May 4, 7:00-8:30PM
Join Fenwick Gallery and Mason Exhibition for a poetry reading and discussion of ekphrasis, considering the relationships between the verbal and visual arts.
For this event, Juliette Rossant will be joined by Mason faculty members Sally Keith, Leeya Mehta, and Peter Streckfus, and Mason student Serena Grant, for readings and a conversation moderated by Heather Green. 
This event will be held in person at Fenwick Library.
7:00PM: Meet in Fenwick Gallery to view the exhibition
7:30-8:30PM: Poetry reading, discussion, and reception in the Fenwick Library Main Reading Room (2001)
Registration is free but encouraged. We look forward to seeing you there!