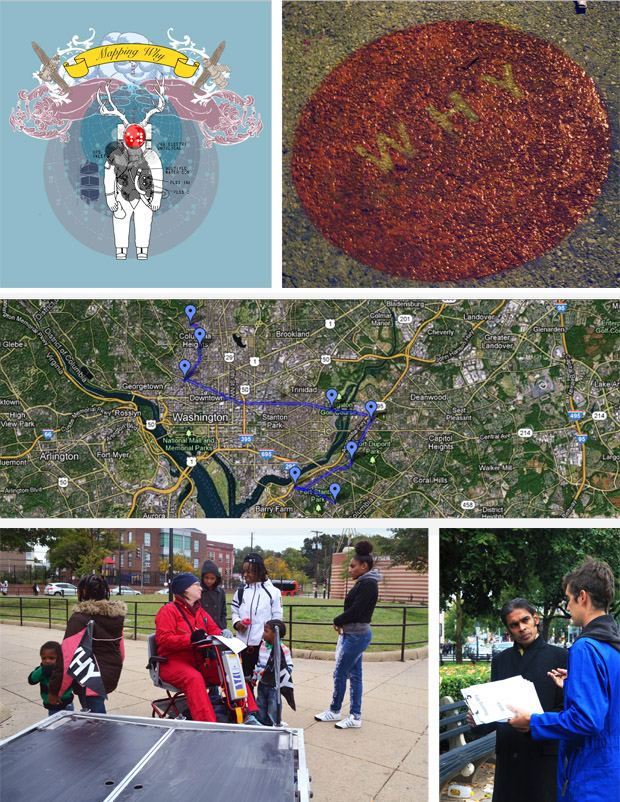 Mapping Why, 2012
The Floating Lab Collective
Mapping Why was an M.E.T. action during October of 2012 intended to map realities of the city that cannot be described using traditional measurement parameters. In contrast to governmental census mechanisms, we utilized the Braille image of the word WHY as a mapped route along which to engage participants during a walk extending from Mt. Pleasant to Good Hope Road in Anacostia. WHY invites participants to think critically in response to their circumstances and surroundings. The resulting map visualizes a psycho-social topography in an aggregated and interpretable, but non-definitive, manner. Simultaneous to the collection of WHY questions, specific aspects of the streetscapes were photographed in order to investigate the physical traces and markers of this psycho-social topography. These demarcations helped form a new vocabulary for thinking about the city's current state and future direction.
The Floating Lab Collective is a group of artists working collaboratively on social research through public and media art projects in Washington DC, as well as nationally and internationally. They experiment with the aesthetics of direct action in crafting responses to specific places, communities, issues and circumstances. FLC artists move across visual art, performance, new media, and publications to engage and integrate such social topics as housing, the environment, migration, labor and urban mobility. One of FLC's most important tools is a converted taco truck– a Floating Museum– that circulates projects among different neighborhoods, communities and regions.
(Source: Floating Lab Collective, http://floatinglabcollective.com/)