Edie Fake: Art World/Comics World
Thursday, September 21, 2:00pm
Fenwick Library Main Reading Room
"There's nobody who draws comics like Edie Fake draws comics." Noah Berlatsky, The Atlantic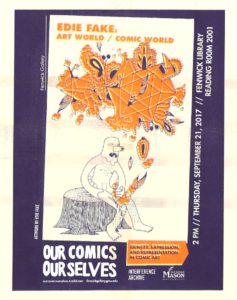 Before you attend tomorrow's talk with Edie Fake, learn a little more about the artist!
Edie Fake's colorful architectural drawings depict manifestations of queer spaces, and use architectural elements as visual metaphors for the ways in which definition and validation elude trans identities. The imagery depicted, such as stages, parade floats and art deco buildings, combines parts of Fake's family history with aspects of queer history and a sort of psychic geography of trans people in society.
Fake's drawings, comics books and publications have been written about it in artforum, ArtNews, The Comics Journal, Art 21, The Guardian, Hyperallergic and The Los Angeles Review of Books. He was one of the first recipients of Printed Matter's Awards for Artists and his collection of comics, Gaylord Phoenix, won the 2011 Ignatz Award for Outstanding Graphic Novel. His work has been exhibited nationally and internationally, including a solo show at Marlborough Chelsea and group shows at Andrew Edlin in New York, Kavi Gupta in Chicago, John Connelly Presents in NYC, the Nikolaj Museum in Copenhagen, LACE in Los Angeles, and threewalls in Chicago. Edie Fake was born in Chicagoland in 1980 and received a BFA from the Rhode Island School of Design in 2002. Fake is represented by Western Exhibitions in Chicago and he currently lives and works in Joshua Tree, California.