Shane Chergosky & ANDiLAND
"Anxious Picnic" & "Into the Sugared Void"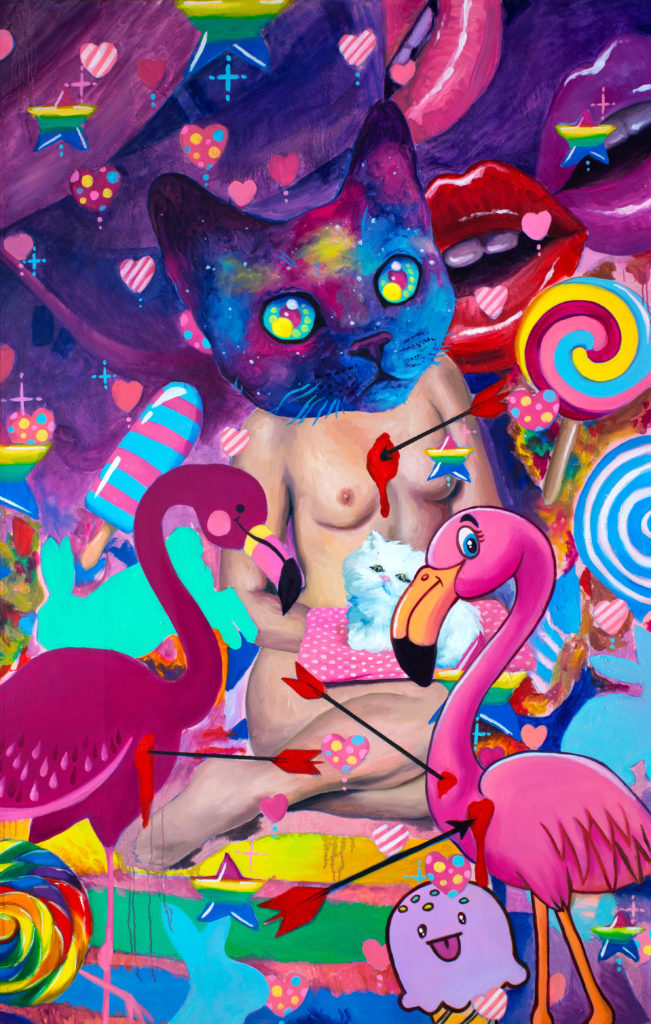 About the Work
Recently, I've moved away from narrative poetry, and from writing about events that are more or less autobiographical. One of the first pieces I published was a relatively traditional sonnet about children practicing flag football and ends with a child getting hit by a car. The poem is very much rooted in what actually happened. The "I" is me, Gustafson (a secondary character) is an old friend who I grew up with, and someone did actually get hit by a car that afternoon.
When I go to write now, I don't necessarily look for moments of drama or epiphany that I've experienced first-hand. Most times, I find myself actively avoiding these moments. Don't get me wrong, I think there's a lot of great art that is autobiographical, or uses autobiography as a means of connection and community-building. Like music and other forms of art, poetry is filled with sub-genres, and I simply don't see my voice as effective –or as interesting– as other artists who work in this mode. I find this somewhat ironic because this poem is set in an actual park near my apartment. However, in writing "Anxious Picnic", I found myself drawing more on the collective experiences I've had at this park. There wasn't a particular time I went there and experienced a moment of realization or clarity. However, what I did realize in writing this poem was that those experiences complicated each other when compared to one another. I wanted this poem to approach how the mind negotiates randomness and certainties, coincidence and premeditation, and existential bummers.
I'm very much interested in using image, line, and sound to offer readers some kind of sensation rather than meaning or narrative structure. This is why I was excited to work with BUNNi—er, I mean Andi. When we first met to discuss this project, I read an earlier version of "Anxious Picnic". It contained, and still does, a play on a line by Wallace Stevens where the poet describes "children nibbling at the sugared void". I read a few that afternoon, but she'd already latched onto "Anxious Picnic", saying she already had a vision for her response.
What I find interesting about Andi's work is its tendency towards hyperrealism. Not in the sense that it mimics reality, but that it augments and exaggerates reality. It's busy and it knows it, delicious to the point of grotesquery. Skies are filled with mouths, a woman allows a snake to crawl over her breast and along her neck, flamingos and all forms of misleadingly harmless wildlife blitz her canvases only to be ran through with knives and arrows. –Shane Chergosky (Caller)
My work invites viewers through the looking glass of reality down the rabbit hole of my personal female psyche, a dreamworld otherwise known as ANDiLAND. Working in several media, my campy paintings, kitschy sculptures and mischievous performance videos create a whimsical plastic wonderland of immersive sensory overloads. This avant-garde fairytale serves as a surreal funhouse mirror that reflects the superficial construct of reality and plays with the voluptuous danger lurking beneath the sticky sweet surface. I milk the excess of cute, passive, girly kitsch ephemera to playfully antagonize power dynamics and destructively challenge conventional values of art and culture industries.
With a perverse humor and a great deal of provocative pleasure, my work conjoins a grotesque hybrid of issue driven contemplation and honest reflection of my own personal experiences. By presenting femininity in an overtly mocking way I attempt to assault the norms of acceptable female behavior, exploiting traditional gender stereotypes to subversive ends. This staged seductive spectacle questions the aestheticization of politics and more concerningly, violence. –ANDiLAND (Responder)
About the Artists
Shane Chergosky is a poet with a drumming problem. He was born in Minnesota where he was raised on stuffed cabbage and heavy metal. His work has appeared in Arcturus, Frontier Poetry, Four Chambers Press, and is forthcoming in Blue Mountain Review.

ANDi is a painter, performance and installation artist who grew up in the plastic wonderland of Southern California. Her work has been part of many group exhibitions across the country including The Torpedo Factory in Alexandria, VA, Sololab5 at Visarts in Rockville, MD, and La Bodega Gallery in San Diego, CA. She currently studies at George Mason University where she is pursuing her Master of Fine Arts in Visual Arts.
Sarah Dolan & Holly Mason
"Motherbody No. 13, 14, 15, 18" & "Transmogrify: A Collage of Voices"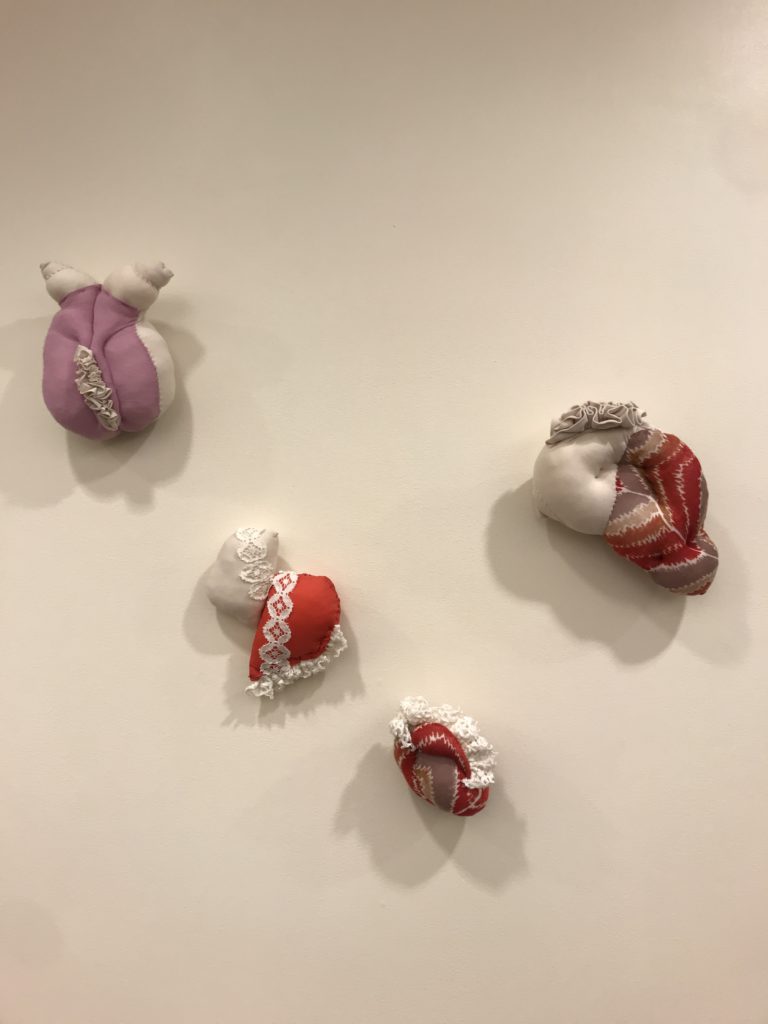 About the Work
In the second year following the birth of my daughter I began an artist residency in motherhood. For one year I made work during my daughter's naptime. I created many bodies of work during my residency, using a variety of materials and processes. My works explore multiple aspects of motherhood including birth, the postpartum body, breastfeeding, and objects used for caretaking and play.
Through the Motherbody Series, I use materials from clothing that no longer fits my postpartum body. Each piece imagines some part of me, not unlike my daughter's many stuffed animals, as a created comfort item. Filled with stuffing from a pregnancy pillow, they imitate plush objects that would soothe a child, while also examining the vulnerability of the body. –Sarah Dolan (Caller)
I was immediately overcome with awe for Sarah's Mother Body series. The materials utilized to create these soft sculptures spoke to a real tenderness (and how that tenderness can sometimes be painful and mixed with pain even). I also immediately knew that I did not have the insights I needed to accurately respond to this work, as I myself am not a parent. So, I solicited feedback from parents through an anonymous survey in which I asked questions about the physicality of parenting and the highs and lows therein. I was grateful to receive 27 responses and struck by the openness. Afraid of appropriating or making assumptions about the parenting experience, I only used the words and phrases from these surveys to create this poem, which is a collage of voices. –Holly Mason (Responder)
About the Artists
Sarah Dolan is an artist and mother based in Alexandria, Virginia. She uses a wide range of processes including drawing, sculpture, embroidery, and printmaking. For the last year she participated in an Artist Residency in Motherhood, where she created during a nap-length studio time and investigated birth, the postpartum body, breastfeeding, and objects of care and play.
Holly Mason received her MFA in Poetry from George Mason University, where she taught undergraduate courses and served as the blog editor for So to Speak: A Feminist Journal of Language and Art. Her poems have appeared in Rabbit Catastrophe Review, Outlook Springs, The Northern Virginia Review, Bourgeon, and Foothill Poetry Journal. She received a Bethesda Urban Partnership Poetry prize, selected by E. Ethelbert Miller. She has been a reader and panelist for OutWrite (A Celebration of Queer Literature) in D.C. and currently lives in Northern Virginia.

Kate Fitzpatrick & Kell Pieper
"Germination" & "Each Letter a Kernel of Grass"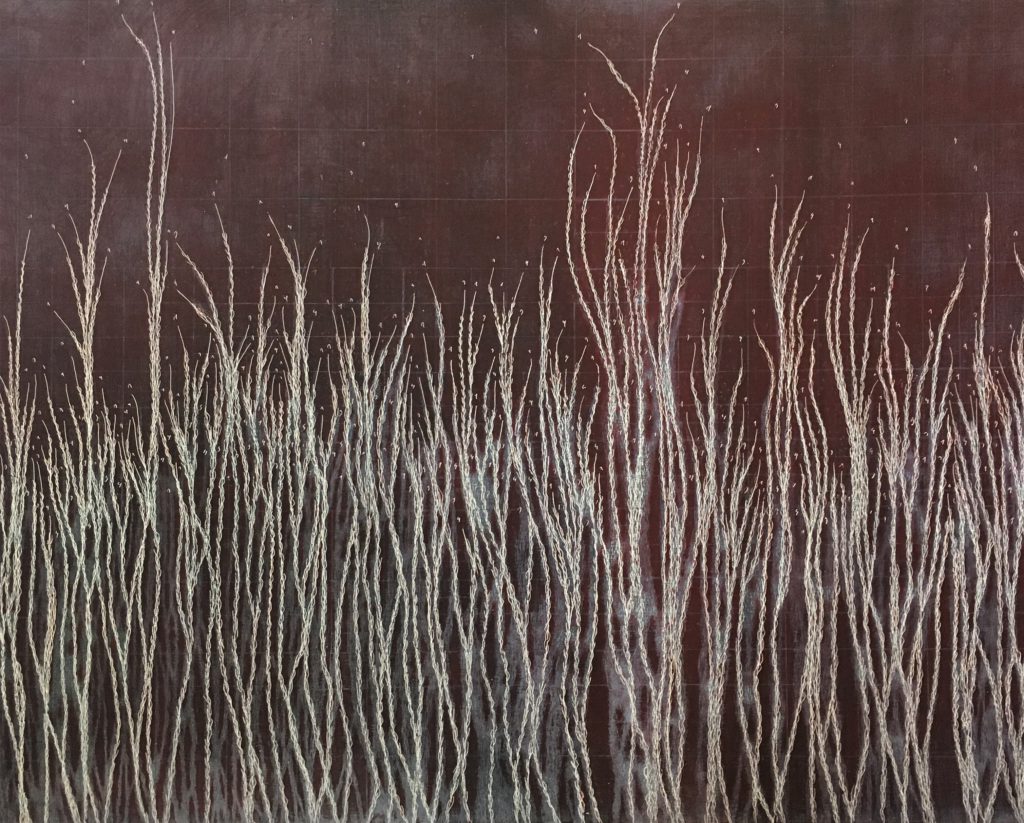 About the Work
I invented a script to explore the wonder of meaning through language as a part of the human condition. The script is tied to the different languages and alphabets I encountered while growing up in a constantly shifting backdrop of places, cultures and people. At first, creating these glyphs acted as a way to settle my mind and refocus my attention, much like meditation. These asemic letters became unmoored: floating, gliding, landing, growing, gathering and transforming.
My paintings use elements that establish space—a grid—but also break its order with varied ciphers that make lines, form shapes, and allow a composition to unravel into impossible landscapes. The elements that seem familiar disappear and become something else. –Kate Fitzpatrick (Caller)
I like to use poetry as a means to explore ethical questions through juxtaposition, resonance, and form; I am particularly interested in thinking through difficult and unanswerable questions about knowledge, power, and intimacy, which drew me to Kate Fitzpatrick's work. I tend to work in hybrid forms, because the tensions between the two modes mimics the social tensions I write into, and partly in order to include research or visual art in my poetics.
As such, I have taken inspiration from the following works: Green-Wood by Allison Cobb, The Black Automaton by Douglas Kearney, and Taigh: A Wilding Garden by Alec Finlay. –Kell Pieper (Responder)
About the Artists
Kate Fitzpatrick is a painter and MFA candidate at George Mason University. The mingling of places she's called home has impacted her exploration of symbols and language. Her work challenges the viewer to think about the nature of language, symbols, and meaning. Instead of replicating known letters, she uses her own unintelligible writing to simultaneously deny transfer of information and invite the viewer to create new meaning.
Kell Pieper is a Midwestern transplant, a 2nd year MFA candidate in poetry at George Mason University, and the assistant poetry editor for So to Speak. She continually amazed by the Virginian predilection for vanity license plates.

Emily Fussner & Lloyd Wallace
"Untitled (Lightning, too, points north)" & "Sentiment"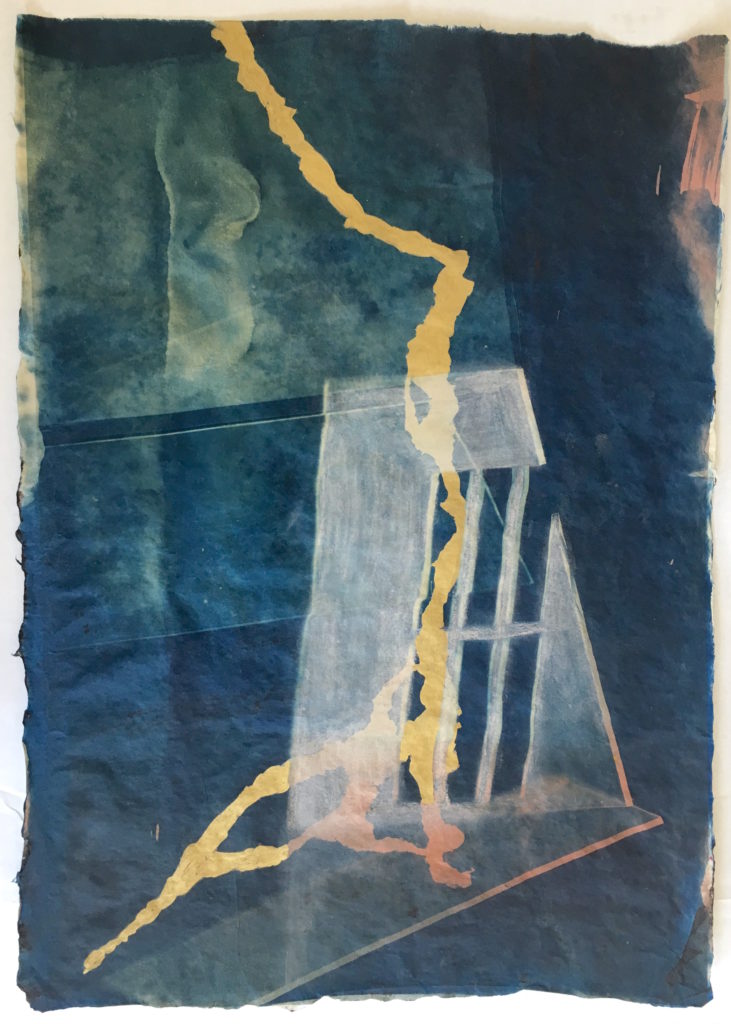 About the Work
I spend a lot of time crouching down close to cracks and light, often in liminal spaces. I fill and cast parking lot cracks with paper pulp, photograph and trace the movement of sunlight in a stairwell. Considering these ordinary ephemeral phenomena with attention and care, they become thresholds of possibility. I translate the on-site documentation into prints, books, and sculptures that can unfold in other spaces—whether in a human-scale architectural installation, or the intimate size of a book that can be held—so that new possibilities may emerge as the mundane and peripheral envelop and confront the viewer in an unexpected way. The haptic processes and materials I use, such as handmade paper, acrylic, and steel, inhabit a tension between what is fragile and strong, ethereal and resilient. My work gives material form to what is usually transient and intangible, inhabiting a gap between passing and dwelling, between a reflection of what is and a proposal of what could be.
Untitled (Lightning, too, points north) began simply as Untitled, and then I added the line from Lloyd Wallace's response poem into the title afterward, because the tone of the poem seems so fitting. A cyanotype and drawing on abaca flax paper that I made, this piece is a translation and reimagination of my observations of light and cracks. The entire process is one of transformation by water and sunlight: Take plant fibers processed and dried, add water and beat to a pulp. Pull through screen with more water, press and dry to form a single sheet of paper. Coat the paper with a photosensitive solution, set on top past projects—a paper-pulp casting of a single crack, and some acrylic pieces cut based on shapes of cast sunlight. Watch the sun expose the green page to blue, the objects' shadows delineating the design. Wash the paper, watching as the shadows dissolve in an instant into the reverse, becoming light. –Emily Fussner (Caller)
Sentiment is more effective as stock than as saltine!!! –Lloyd Wallace (Responder)
About the Artists
Emily Fussner is a multidisciplinary artist based in Northern Virginia. Her art practice directly responds to place while also considering the body, influenced in part by her experience growing up in several countries and living with a brittle bone condition, Osteogenesis Imperfecta. Fussner has exhibited in group shows regionally and internationally, and recently had her first solo exhibition in Washington, DC, at IA&A at Hillyer. She completed her MFA in Visual Arts at George Mason University, and during her final year in the program was awarded a 2018-2019 Virginia Museum of Fine Arts Graduate Fellowship. She currently works as the event manager at Washington Project for the Arts.
Lloyd Wallace is on staff at the Adroit Journal and Poetry Daily. His work has appeared or is forthcoming in FENCE and THRUSH. The recipient of a fellowship from The Folger Shakespeare Library, you can find him on Twitter @jockeycornsilk.

Matt Nolan & Millie Tullis
"The Tower" & "There is One Deep Fold / Scientists Believe"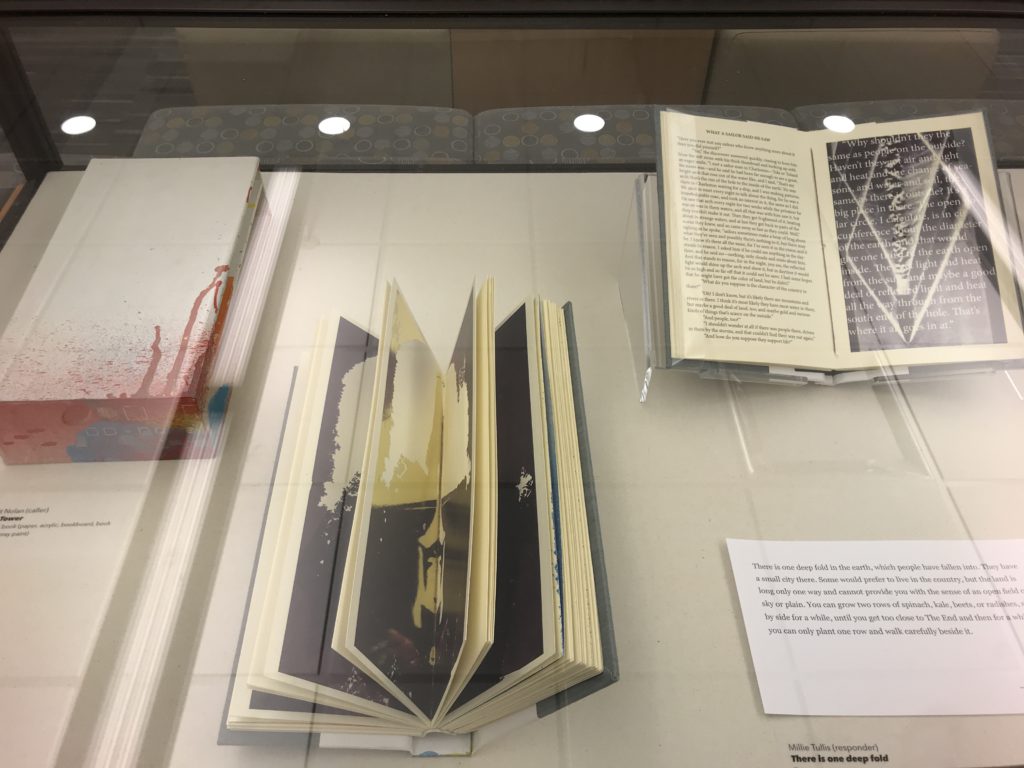 About the Work
I work to explore the interaction of elements at the moments of intersection between the organic and inorganic; I am standing at the crossroads of real and virtual. Using elements of tradition and craftsmanship mixed with technological solutions, I explore the gap between rural and urban ways and means. My work investigates ancient solutions to modern problems.
"The Tower" is a work comprised of two books in a custom slip case. It is entirely hand-made and bound. The word Cataclysm appears prominently inside the case. It is a physical manifestation of a fall from grace, or the inverse. The tall book features a triptych of original paintings. The short book includes two works of science fiction in canon with one another, with passages redacted by images. The book starts with an invitation into an antediluvian world. –Matt Nolan (Caller)
About the Artists
Matt Nolan has a holistic vision for music, art, movement, and light.
He holds a Bachelor of Music (B.M.) degree in Music Synthesis/Voice Principal from Berklee College of Music and a Master's Degree (M.M.) in Music Composition from George Mason University. He has Lectured at Tufts University, George Mason University, The Smithsonian Institute's Hirshhorn Museum, numerous conference presentations, and is an Assistant Professor for George Mason University's Computer Game Design Program. Matt is a co-founder of the Computer Game Design program, started in 2008. Matt is the founder of Puddle Jump Games, an independent game studio in Manassas, Virginia.
His programming and interactivity work has been used and performed at SICMF Seoul Korea , 2007 Florida Electro-Acoustic Music Festival at the University of Florida, Berklee College of Music, George Mason University's Center for the Arts, The Hylton Center for Performing Arts, New Interfaces for Musical Expression (NIME) 2007 at the Columbia University Computer Music Center as part of NYC Electronic Arts Festival, CHAW (Washington DC, TEDX Tyson's, The Atlas Theater, EABD (Fredericksburg), Monkeytown (Brooklyn), and his artwork was selected for The Newtown Project : A Call to Arms for the Charles Krause Reporting Fine Art Gallery in Washington, DC. His photography was featured at the Philips Collection in Collaboration with Helen Frederick. He founded the Virginia Artist's Residency at STUD Gallery in Catlett, VA.
Millie Tullis is an MFA poetry candidate at George Mason University. Most recently, her poems have been published in Pembroke Magazine and Ninth Letter. She works as social media manager and assistant poetry manager at phoebe. In 2016, she won the Elizabeth Curry Poetry Prize. She lives in Virginia with one big gray cat. She can be reached at http://millietullis.weebly.com.

Jennifer Lillis & Caroline Weinroth
"Redox: ti plate" and "City Witch Monologue"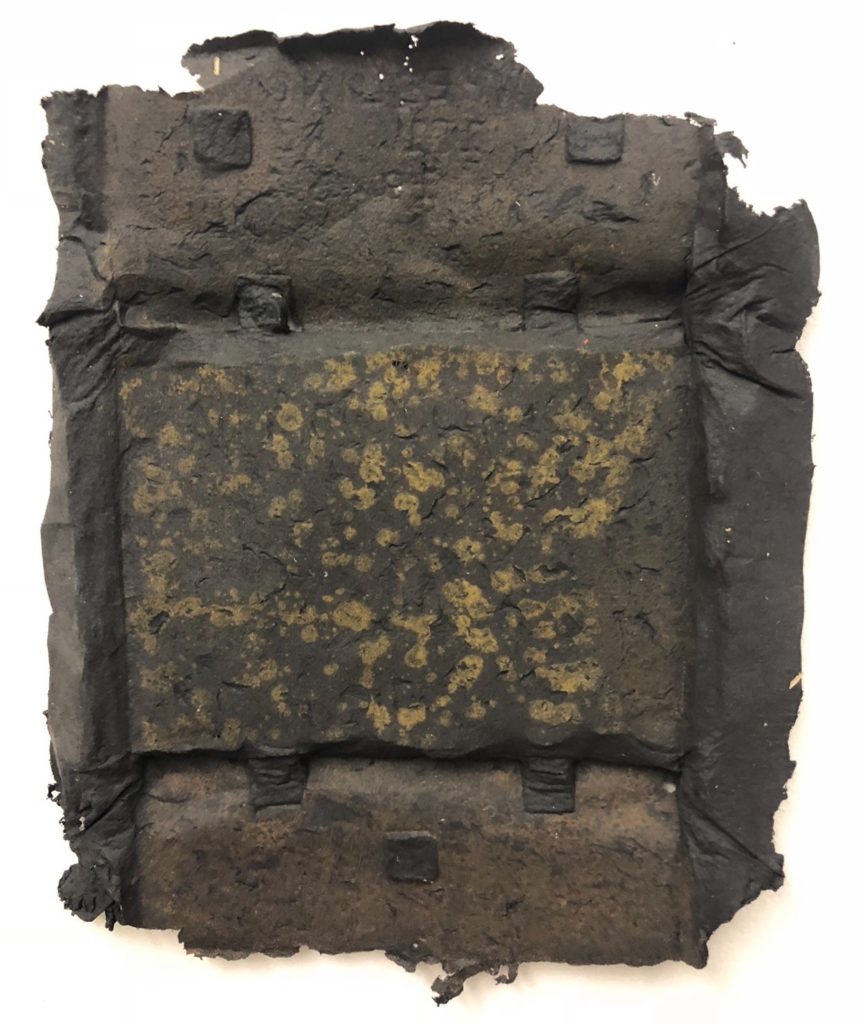 About the Work
Redemption.
realization, revelation.
broke, once whole
track, beam, stake, screw
soak, then beat
reap, repeat.
Oxidize.
An oxidation-reduction (redox) reaction is a type of chemical reaction that involves a transfer of electrons between two species. An oxidation-reduction reaction is any chemical reaction in which the oxidation number of a molecule, atom, or ion changes by gaining or losing an electron, and always occur together. –Jennifer Lillis (Caller)
About the Artists
Jennifer Lillis (b. 1989) is an artist, teacher, and administrator in Northern Virginia. She received her MFA in Visual Art and Technology from George Mason University in 2019, and a BA in Studio Art from Marymount University in 2012. Jennifer is the Gallery Manager at the McLean Project for the Arts, teaches Printmaking at George Mason University, co-producer of Paper Cuts, and founder of the print and book collective ELEMENTS.
Caroline Weinroth is a musician, writer, and arts advocate from Fairfax, Virginia. She is a 3rd year MFA Poet at George Mason University. Caroline is the lead singer, guitarist, and songwriter for the rock band Cinema Hearts. Cinema Hearts was selected as Best Local Band 2017 by Northern Virginia Magazine and has played the Kennedy Center, Smithsonian Museums, Fort Reno, and more. Caroline's original work has been published on NPR, Washington City Paper, Brightest Young Things, and Public Pool. She was Miss Northern Virginia 2018. Learn more at carolineweinroth.com. Follow @carofinew and @cinema_hearts.

Jayne Matricardi & Ana Pugatch
"Great Grandmother and Rachel" & "Maternal"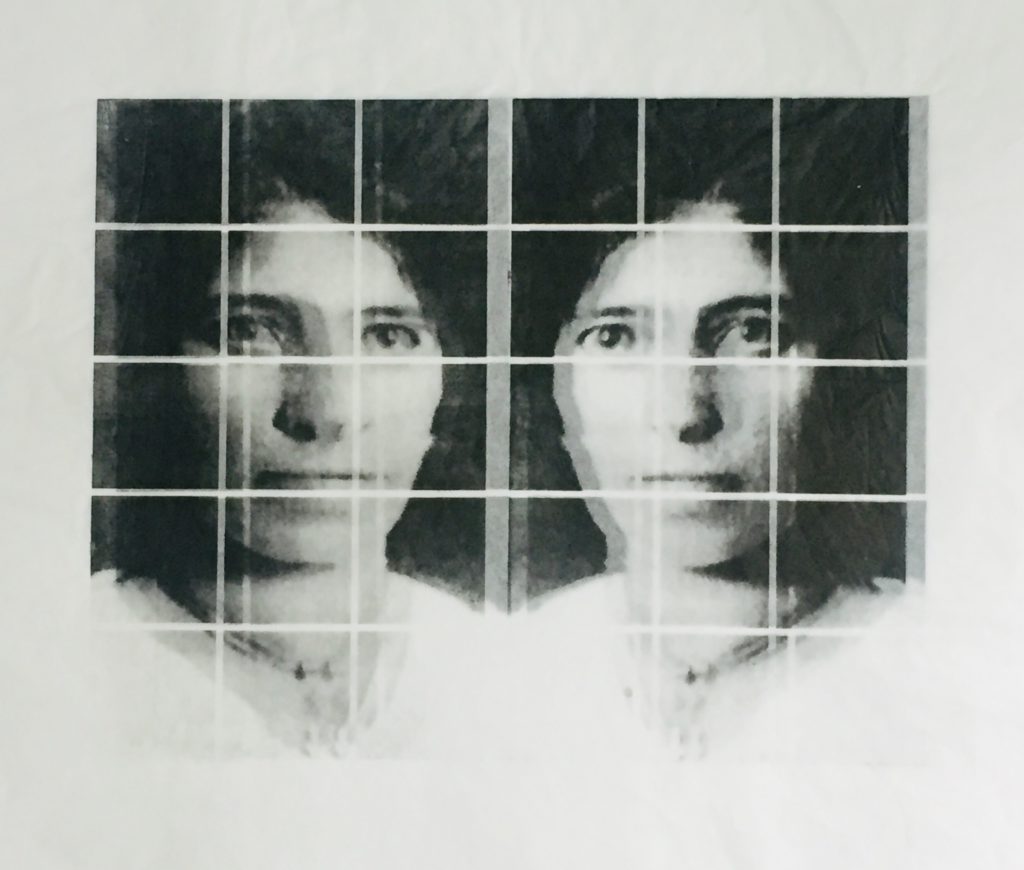 About the Work
"Art can act as a form of reparative memory of what cannot be otherwise adequately represented." This assertion, from Susan Best's Reparative Aesthetics currently guides my artistic practice. I work with both family and found photographs in various ways. I scan, zoom in, crop, isolate, enlarge, fragment, recombine, mirror, re-draw, re-photograph, and re-print. This often involves a process of moving from analog to digital forms, and back again, multiple times. Through this process I am interested in how looking deeply into minute sections of a photograph can transform and inform a personal narrative, in which past, present, and future are simultaneous. This piece layers mirror-images of my great-grandmother, reflecting flashes of ancestral memory, while forming a new maternal figure of my own creation. –-Jayne Matricardi (Caller)
The artist and I discovered that we share a mutual interest in the thematic intersection of motherhood and identity. Historically and culturally, motherhood has oftentimes demanded the erasure of the self. These are the women in our lives who we wonder about. What was her other life like, the one left hidden or unseen? We recognize ourselves in them, or perhaps imagine that we do, resulting in a ghostly transmogrification of these maternal figures from our past. They are imbued with new meaning, and new power. —Ana Pugatch (Responder)
About the Artists
Originally from Baltimore, Maryland, Jayne Matricardi-Burke has been living in the DC area since 1996. After a brief career as a web designer, she became a studio art teacher in Fairfax County Public Schools. She has taught at Woodson High School since 2001. She received a bachelor's degree in painting and art history from the University of Virginia, and a master's degree in education from the George Washington University. She is currently pursuing an MFA in painting at George Mason University.
Ana Pugatch is a second-year MFA candidate studying poetry. Before coming to George Mason, she taught English in China and Thailand. Her work has been featured or is forthcoming in Thin Air Magazine, The Esthetic Apostle, Angelical Ravings Zine, Third Wednesday, Remington Review, Cagibi, Bangalore Review, and Foothill Poetry Journal.

Alexandria Petrassi & Anney Bolgiano
"Nude Woman with a Red Armchair" & "Unmade"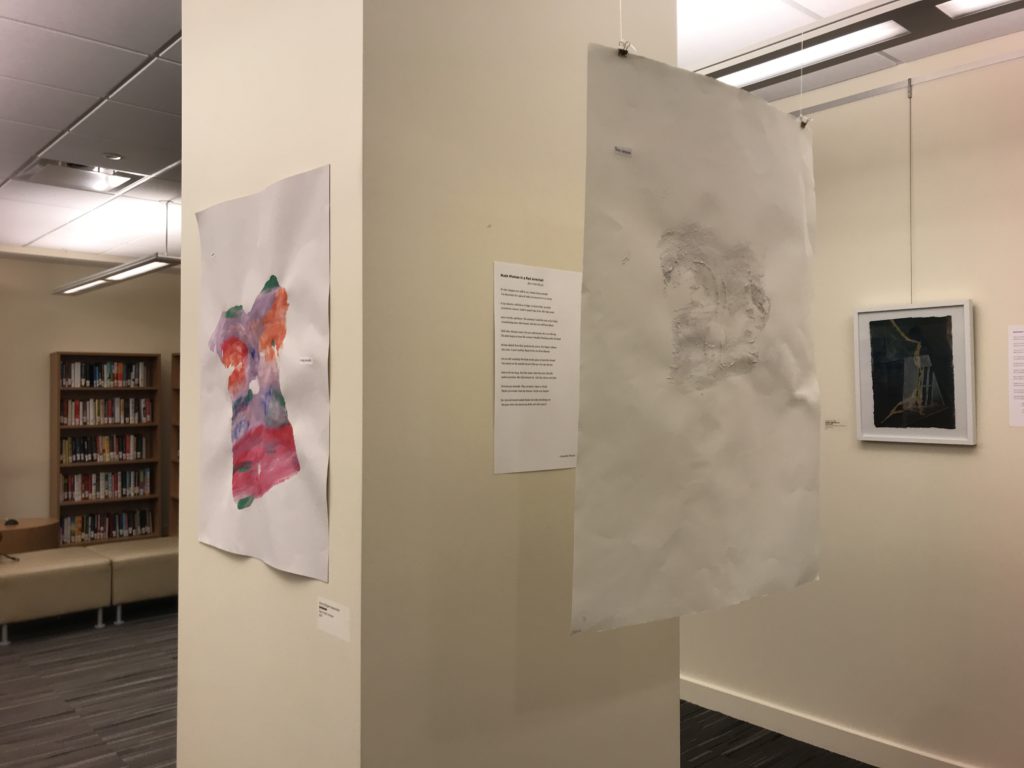 About the Work
When I read the line "a woman being unmade" in Alexandria's poem, "Nude Woman in Red Armchair," I immediately thought of my mother. During her experience with breast cancer in 2013, she had a double mastectomy, followed by reconstruction. This past summer, after discomfort, a lymphoma scare, and a reckoning with what it means to be at home in her body, she reversed her reconstruction. Since then, her pectoral muscles have reattached and she has reported feeling stronger and freer. In the past, I have made prints of my torso using acrylic paint. For this project, I painted and made prints of my mother's post-mastectomy torso, and then made some of my own. In addition, I made an erasure poem from "Nude Woman in Red Armchair," which seems to have a transformative mastectomy poem hidden within it. For the white-on-white sheet, we used textured acrylic gel and white paint in hopes that the viewer will have to look closely at the texture to decipher the subject of the image. Please experiment viewing the image from either side, with the light on and off. After that experience, we tried to only use nontoxic and water-soluble materials – tempera paint and glue. Special thanks to my mother for agreeing to participate despite being so modest she won't even get the paper in her pajamas. –Anney Bolgiano
About the Artists
Alexandria Petrassi is a poet, artist, and garden enthusiast originally from Chicago, IL. She received her MFA in Poetry at George Mason University in 2019, where she served as the Editor in Chief at So to Speak Journal, a professor of writing and literature,and an intern for Poetry Daily. Currently, she works as the Communications & Development Associate at Split This Rock, a nonprofit organization in DC that celebrates poetry as an agent for change and calls poets to a greater role in public life.
In the past, she has worked as a Digital Communications consultant in a variety of contexts—from healthcare to DIY. She is the winner of the 2018 Mary Roberts Rhinehart Award in Poetry. Her work has appeared or is forthcoming in Bone Bouquet, SWWIM Every Day, CALAMITY, Crab Fat Magazine, Sweet Tree Review, The Seldom Review, on The American Writer's Museum's blog, and on Stillhouse Press's blog, Moonshine Murmurs. You can find her on Instagram @alexandriapetra.
Anney Bolgiano, from Silver Spring, MD, received her MFA in Creative Writing from George Mason University in 2019, and her BA from Guilford College in 2014. She is currently an adjunct professor, creative writing teacher, food service worker, and will probably have another job by the time you read this. Her written work has appeared or is forthcoming Whiskey Island, in District Lines, A Velvet Giant, and Funny Looking Dog Quarterly, and this is her first time publishing or showing her visual art.

Strange Lens & Lisa Desrochers-Short
"The Encounter" & "Orlandina"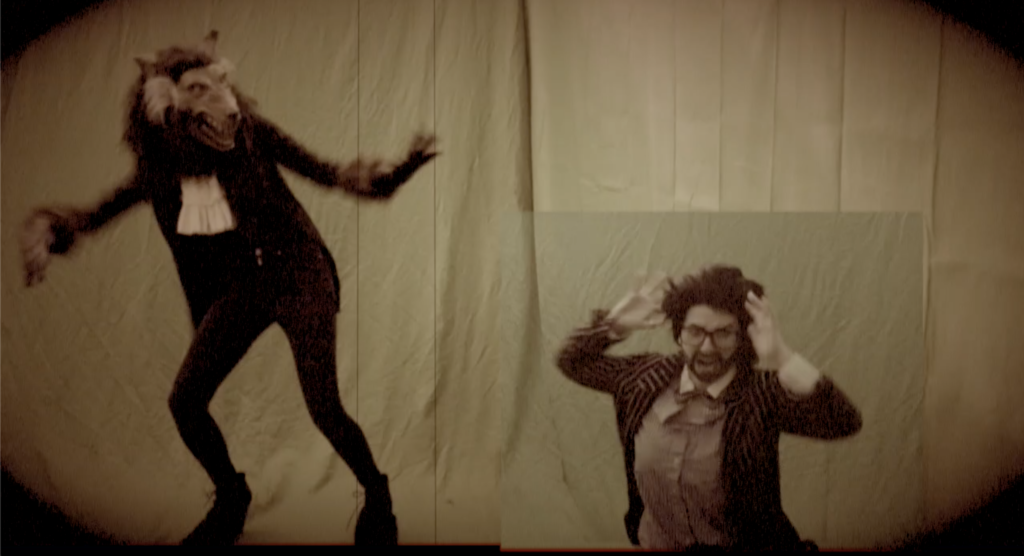 About the Work
I explore the world of dreams, nightmares and the irrational. —Strange Lens (Responder)
About the Artists
Strange Lens is a mixed media, video and performance artist. She is currently pursuing her MFA degree in Visual Arts at George Mason University.

Lisa DesRochers-Short is a poet who was born and raised in rural Maine. She received her BA in English from the University of Maine at Orono and is the MFA Poetry Thesis Fellow for 2019-2020 at George Mason University. Lisa is currently the Assistant Nonfiction editor for So to Speak and she won an Alan Cheuse International Travel Grant for research in Montréal, Quebec and translation of a poetry book written by her ancestor, Alfred DesRochers. Her work has appeared in Permafrost, Common Ground Review, Breakwater Review, and others. This poem was influenced by (and takes its name from) the AuktYon song "Orlandina" and was inspired by Alice Notley's Descent of Alette and the story of The Garden of Eden from Genesis in the Bible, taking from each an aspect of the damned and twisting those aspects into a new story that relates to the images portrayed in the film by my partner, Sam Fedorova (Strange Lens).
Mike Walton & Martin Mitchell
"Crimson Rain" & "Early April"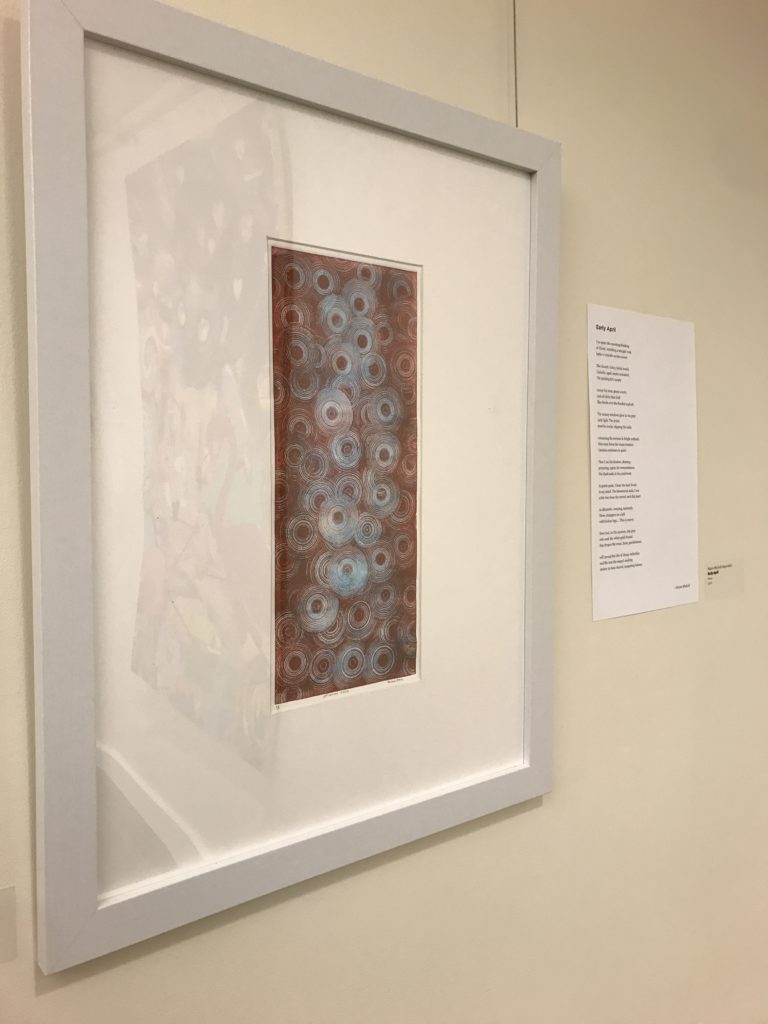 About the Work
Crimson Rain is a visualization of the saving grace of Jesus Christ and of the show theme Transmogrification. A transformation takes place in all of us that accepts Jesus Christ as their savior, a transformation from death to life. The crimson blood of Christ washes our sins; the crimson rain revealing a cleansed new creation. –Mike Nolan (Caller)
"Early April" is my response to Mike Walton's Crimson Rain. In contemplating Mike's print and thinking of our initial conversation together, I recalled an Easter experience I had a few years ago—a sort of revelation, if you will. That is the "germ" that initiated this poem. But more importantly, I found Mike's sincere faith in Jesus Christ quite moving and felt compelled to investigate my own ambivalence regarding Christianity, and to think of Christ's crucifixion in particular. –Martin Mitchell (Responder)
About the Artists
Michael Walton is a printmaker and sculptor living in Northern Virginia. He is currently a Masters of Fine Art candidate at George Mason University. His printmaking methods include etching, wood block and serigraph as well as digital. He uses both commercially manufactured paper and handmade paper from recycled materials, clothing and paper remnants for his prints and for artist's books. The materials and processes he uses for sculpting varies widely. The raw materials are wood, stone, resins, clay, paper, metals, ready-made components and milled lumber.
Michael creates works that examine social conditions such as the exploitation of children, along with the mismanagement of natural resources through the availability of potable water. He also explores depression and anxiety, and how we humans live both as sufferers and supporters. His recent exploration and research is centered on understanding the principals of space time and eternal paradigms. Though Michael's work has a thematic focus based on one of the mentioned topic areas of research, the foundation is centered on his belief and faith in Jesus Christ and what He did for all.
Martin Mitchell is a writer based in Washington, DC. Originally from Southern California, he has lived on the East Coast since 2016. He is currently an MFA candidate in poetry at George Mason University and on the staff of Poetry Daily (poems.com). His work has appeared in various publications, including Main Street Rag, Time Out New York, and elsewhere.