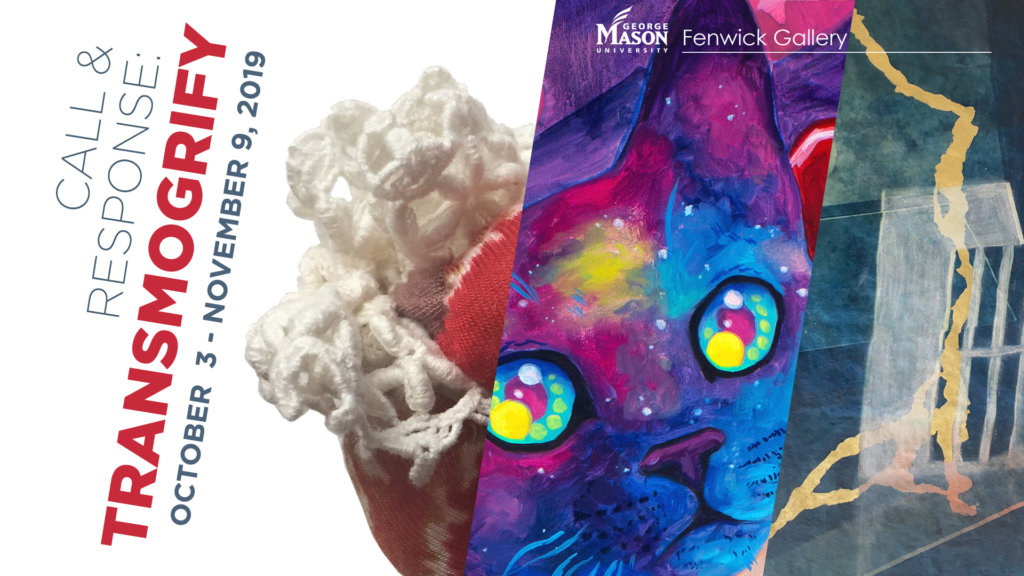 October 3 – November 9, 2019
Opening Reception and Panel Discussion:
Thursday, October 10, 1:30-4:00PM
About
Call & Response is an annual exhibit of collaborations between writers and visual artists, in which one calls and one responds. The result is a dynamic set of paired works of words and artistic media that resonate and speak to contemporary issues. The theme for the eleventh annual Call & Response is Transmogrify.
The term transmogrify means to change, but various dictionaries add "magically," "utterly," "surprisingly," and even "in a grotesque manner." This collaboration between writers and artists relies on a kind of metamorphosis, one in which a spark from the caller's work is made apparent in a new form in the responder's. How do we transform one another? How does one work surprisingly or even utterly, alter our view of another?
Call & Response is an ongoing partnership between the Mason School of Art, the English Department's MFA program in Creative Writing and the University Libraries, and is presented in conjunction with the Fall for the Book festival. This exhibition is curated by Heather Green (Faculty, InterArts, School of Art), and Christopher Kardambikis (Faculty, Printmaking, School of Art), in collaboration with Stephanie Grimm (Art & Art History Librarian & Fenwick Gallery Manager) and Tanya Dieudonne (Fenwick Gallery Graduate Assistant).
Opening Reception and Events
Thursday, October 10
1:30 P.M.: Panel Discussion with Artists and Writers
Fenwick Library Main Reading Room (2001)
Presented in partnership with the Fall for the Book Festival
3:00 P.M.: Opening Reception in Fenwick Gallery
5:30 P.M.: Afterparty / Sip & Draw
Old Firestation No. 3, Old Town Fairfax
Fenwick Gallery is open during Fenwick Library business hours; see the library's website at https://library.gmu.edu for the most accurate and up-to-date information.
Contributing Writers and Artists
(click to view full bios and statements)
Recommended Readings