END CYCLE
Christopher Kardambikis
End Cycle Catalog
A collection of books as travelogue. Books as time capsules that reveal how images are built and rebuilt. Books that contain multiple spaces, all folded up and overlapping and spilling out.
Over the past 5 years I've lived in almost as many cities. I had developed a rapid production method to simultaneously explore place and form. Overlapping the space of the book with living space. With social space. Playing with pacing and materials and setting goals that forced invention within tight time frames. Making drawings, photographs, and collages that, once printed and bound in books so closely tied to their cities of production, have gained a specific weight. Maybe (probably) only felt by me, but that weight is there and real. Loaded images that built up a charge through use, reuse, and distribution. Books bound to specific locations and times.
END CYCLE is a show of 23 books and 1 large format print. The work is arranged in vitrines circling the gallery so as to allow for new connections to be made between points in space and time – between the Terra Nullius of New Castle – a small town in western PA frozen in grey post-industrial collapse – and the 1,520 pages sewn together in Bed Stuy, Brooklyn – tied to the daily routine of cross-neighborhood foot commutes. Between Southern California streets scorched by the sun and endless comic-book panels burnt into a childhood brain over the course of long afternoon readings.
A wander around the catacombs before allowing the books to rest. Or maybe more like reverse archaeology – deliberately burying images and pages in masses of ink and glass boxes until they're partially forgotten. Until they break down. Until they're useful again. Until they can be built into something new.
————
In addition to the works on display, a series of risograph prints will be produced throughout the month that will be available for free, on a first come first serve basis, in the gallery.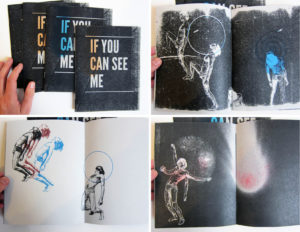 IF YOU CAN SEE ME // I CAN SEE YOU
Zine.  Xerox and Inkjet Print.
August 2015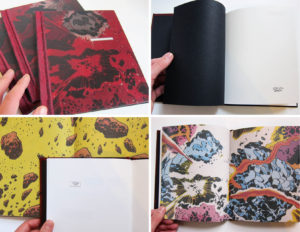 In a Far Distant Century…The Gods of Olympus Shall Die
Zine. Edition of 10
May 2014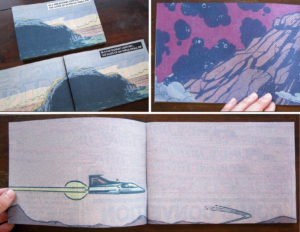 It Was The End of the World
Zine
Edition of 50
February 2016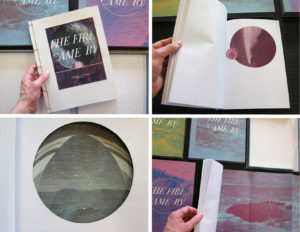 The Fire Came By
Artist Book and Drawing
Edition of 5
February 2015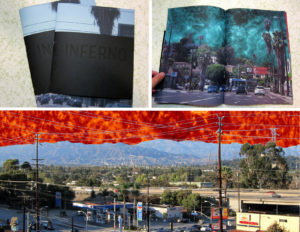 THIS IS THE INFERNO
Zine. Edition of 30
September 2014
THIS IS THE INFERNO #1
Digital Print
2016
Christopher Kardambikis explores space, process, and form through books, printmaking, and drawing. He has co-founded three artist book and zine projects: Encyclopedia Destructica in Pittsburgh, Gravity and Trajectory in San Diego, and 90 Proof Press in Los Angeles. Christopher has been an artist-in-residence at The Art Students League, Vermont Studio Center, the Virginia Center for the Creative Arts, the Millay Colony, Pioneer Works, and the Pittsburgh Center of the Arts. He received his BFA from Carnegie Mellon University and MFA from the University of California, San Diego.  Christopher is laso the host of "Paper Cuts", a program on Clocktower Radio that documents the contemporary world of zines and DIY publishing.
Christopher Kardambikis is an Assistant Professor and Director, Printmaking & Navigation Press, School of Art, George Mason University.