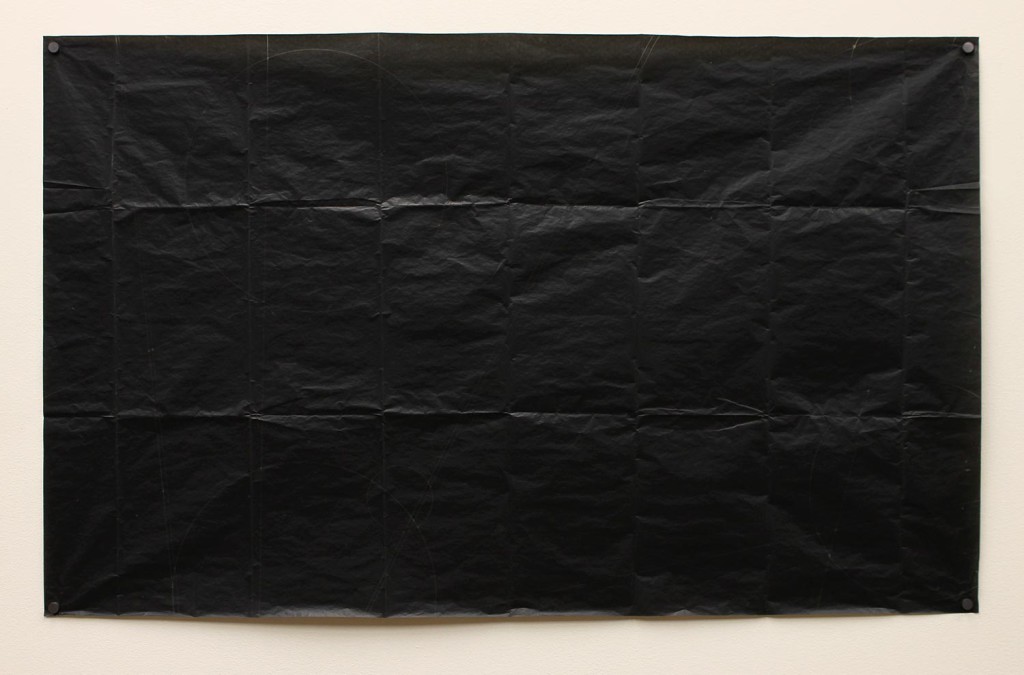 Artist Melissa Hill has created a series of subtle drawings on carbon paper which chart the night sky in her at her home in the Hampton Roads area. Combining her own observed data (recorded from her nighttime trips out into the bay in her kayak) with scientific data about the night sky, Hill's drawings quietly trace the paths of stars, airplanes, and satellites that pass overhead. Read more about her fascinating working/thinking processes below.
See her drawings in person through this Friday, February 20th at Fenwick Gallery. Or, see Melissa's MFA thesis show of drawings + sculpture,  coming soon to Mason's School of Art Fine Art Gallery (in the Art & Design Building) March 30th – April 3rd.
Anne Smith: Tell me about the process of making these drawings. 
Melissa Hill: I started out this endeavor by attempting to make notations of the sky in Northern Virginia. At every turn I was met with a mounting frustration due to the ubiquitous light pollution present throughout the area. I remembered back to my trips to Nebraska over break and recalled the clear sky. The only other place I could remember seeing such a clear sky was on my parents' boat as a child.
I took to kayaking on the beach back home in the Hampton Roads area of Virginia, and though light pollution still exists, it lacks the extremity of Northern Virginia, so I began to make numerous sketches and notes of the sky as often as possible.
I started to make trips out onto the bay 2-3 times a week during the evening hours and would sit quietly, meditate on my thoughts, and draw my observations. I played with the idea of layering the charts on a weekly and then monthly basis by tracing what I had noted each night while out on the water using transfer paper to transfer all of the images to a newer and nicer sheet of drawing paper.
In the end I started to notice that transfer paper I was using a tool to reproduce my sketches also became a legitimate recipient of the reality that I was attempting to construct. In each etched line existed a narrative, an experience – entire worlds of existence. Much like our experiences scar and impress themselves upon us, so too did my creation impress itself upon the tool. At that point it became more real to me than the ghostly echo left on the original recipient paper.
AS: After you observe the night sky, you take your observations and sketches back to the studio. To make the final piece, you refer to your observational drawings as well as authoritative, hard data from scientific institutions. Would you talk about your choice to use these two very different sources of information? What does each bring to the table?
MH: I think that technology is necessary in the endeavor to better educate ourselves on topics that we are not familiar with. I am by no means an astronomer but by using the information gleaned from external sources I can familiarize myself with the intricacies of our shared reality. I like to know more about what I am seeing and I use the scientific data as a rough estimate to create a new reality based on both the personal observation of an experience and data of our accepted reality.
Constructing a new reality is not necessarily the act of creating from scratch, but using the extant reality around us. The artist changes what exists into something new, birthing a new reality from the husk of the old. To create the most compelling reality I can, I find it necessary understand our shared reality at thoroughly as possible.
AS: In the sense that these drawings are maps, do you understand them as navigational? Or do they help you locate yourself within a geography? In other words, how do see them operating as maps?
MH: I think of the charts as mapping experiences in time. They don't necessarily help me navigate a physical world but rather a metaphorical landscape. That landscape is my way of interrogating the creative process by looking at change and multiplicity, and their function in art. I then carry these lessons forward in life because I believe that the only true constant is contingency. As I continually remake myself, so to do I continually remake the sky and so the star charts are not so much a roadmap as they are an allegory.
 AS: Any favorite scientists or explorers?
MH: I really enjoy listening to Neil deGrasse Tyson's lectures and I admire how he, Brian Green, and Michio Kaku have brought very complicated theories to the public by explaining them in a fashion that is understandable.