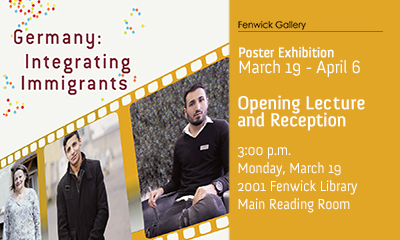 Monday, March 19 – Friday, April 6, 2018
Organized and produced by the Embassy of the Federal Republic of Germany, Washington, D.C. and Zeitbild
Co-sponsored by the Mason Modern and Classical Languages Department
About the exhibition
Immigration has shaped Germany since World War II. In the wake of the refugee crisis, the number of migrants in Germany and Europe increased significantly. By the end of 2016, Germany was home to 10 million people with non-German citizenship. Migrants now make up a slightly bigger share of the population in Germany than in the United States. In response to the influx of refugees, the German government, local authorities and civil society intensified their efforts to integrate the immigrants and to provide opportunities that strengthen the country's workforce. Refugees fill the need for skilled workers but lack of language skills and training slow down the integration process.
Facing this enormous integration challenge, the government is combating the root causes for flight in the refugees' home countries, and has taken additional measures to address security concerns in Germany.
This exhibition provides facts about immigration in Germany as well as stories about immigrants and refugees who came to Germany and made a positive difference. Learn more about the exhibition's roots and download a PDF of the full exhibition from the Embassy's website.
Opening Lecture and Reception
Join us on Monday, March 19th at 3:00 p.m. in the Fenwick Library Main Reading Room for an opening lecture with Mr. Christian Heusermann, Chief of Staff to the German Ambassador of the German Embassy in Washington, D.C. A small reception will follow in Fenwick Gallery at 3:45 p.m.
This event is co-organized by Dr. Natalia Dudnik, Term Assistant Professor of German Studies, and is co-sponsored by the Modern and Classical Languages Department at George Mason University and the Embassy of the Federal Republic of Germany.
Related Resources
Recommended Readings
Selected readings and materials from Mason Libraries