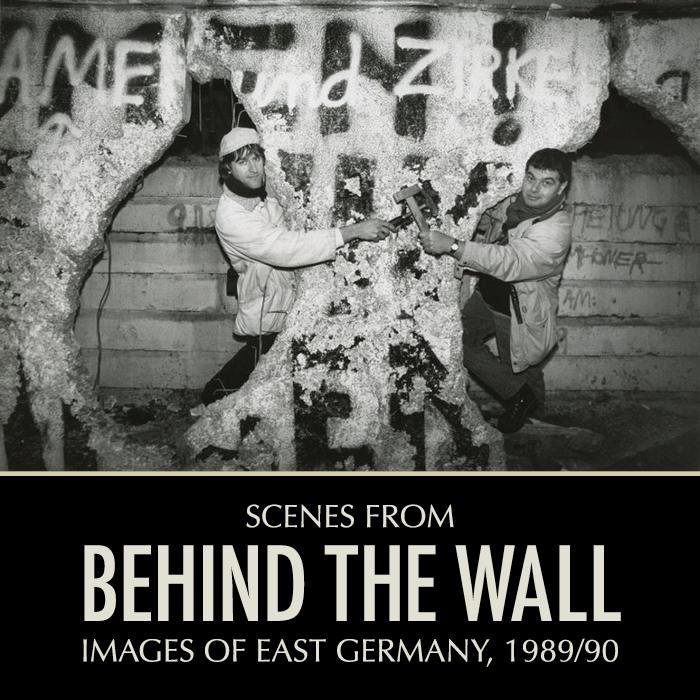 On November 9th, 1989, the Berlin Wall came down, reuniting families and friends that had been separated since 1961 and beginning a process by which the starkly divergent East and West Germany would be made one country again.
In honor of the 25th anniversary of this momentous event, Fenwick Gallery is proud to announce our upcoming exhibit, Scenes from Behind the Wall: Images of East Germany 1989/90. 
The exhibit features a selection of photographs by Page Chichester (who grew up in Culpeper, Virginia) and German photographer Helmut Brinkmann. One evening in December 1989, over drinks and a televised fußball match, Chichester and Brinkmann decided that they would go to East Germany. "The two stayed up all night planning their hastily-conceived trip.  At Noon on December 29th the two took off in a Volkswagen van carrying cameras, film, and very few provisions." [1]
Beginning October 13th, visit Fenwick Gallery to see this incredible look inside East Germany just weeks after the fall of the Berlin Wall.
More about the artists:
Page Chichester was born in New Jersey in 1959 and grew up in rural Culpeper, Virginia. He earned a bachelor's degree in English and a master's degree from the University of Missouri School of Journalism. After a two-year stint as photo editor at a wildlife-conservation magazine in Washington, D.C., he spent five years in West Germany, where he worked as a freelance photographer. He returned to Washington, D.C., in 1990 to work as a photojournalist for the National Audubon Society's television productions department, photographing four books including one on the African elephant. He then became editor of Virginia magazine, formerly Virginia Southwest. He freelanced in Roanoke, Virginia, for several years before moving to Bonn, Germany, with his family. The tides of change have swept them to Berlin, and today, Chichester is part of the subcontracted photography crew on various cruise ships. Chichester's photography has appeared in museum and galleries in Athens, Berlin, Bonn, Washington, D.C., and Virginia, as well as in state, regional, and national publications.

Helmut Brinkmann was born in 1951 in Duisburg, part of the coal-mining region (Ruhr Pot) of the former West Germany. He has been a professional photographer since 1979. In addition to his commercial, portrait, and architectural photography, he has exhibited numerous projects in Duisburg, Hamburg, Bonn, Greece, and Spain. In 1972 Brinkmann won the prestigious Bundesfotopreis (National Photo Award). A series of his hand-colored postcards was published as a book, Verwandlungen (Changes), by one of Germany's foremost art publishers, DuMont Verlag. He was among the photographers chosen for the 1991 exhibit Five Bonn Photographers, is a member of the Bundesverband Bildender Künstler (National Assn. of Artists) and is listed in the Bonn Artists Directory. His work has been published in Stern, Die Welt, and other major magazines and newspapers, and he has taught photography for several years in high schools in and around Bonn. Brinkmann has traveled extensively through the former East Germany since 1989.
Biographical information is from the exhibition catalog: Chichester, Page and Helmut Brinkmann. Scenes from Behind the Wall: Images of East Germany, 1989/90. Floyd, Virginia: The Jacksonville Center for the Arts, 2012.