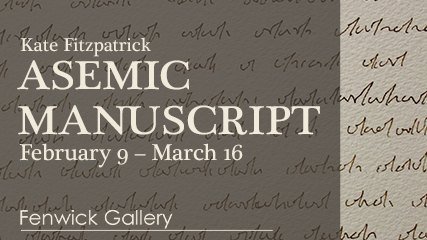 February 9 — March 16, 2018
About the exhibition
Deconstructing traditional writing systems and letter forms, artist Kate Fitzpatrick invents her own written language as meditation. The work unveils a realm of streaming consciousness, forming a mantra of the artist, while the structure of the page invites the viewer to search for the familiar and reflect on the unknown.
Artist's Statement
The consequences of being dislocated have a profound effect on the human condition. Whether displacement occurs in an unpredictable or planned way, that change has a powerful impact on our thoughts, feelings, and the way we understand the world. As dislocation occurs in any of our lives it forces each of us to confront the essentials we need to exist and connect with others. I am investigating the importance of how communication plays a larger part in understanding the human condition.
Over centuries, the physical and mental process of writing has been used to form our thoughts into symbols. The marks we make carry meaning and become markers of our identity. These varied marks or characters we put to page speak directly to the mind without sound. We transfer meaning to lines, we recognize the shapes, and allow the composition to unravel meaning into the inscriptions. Invented writing systems pass on a thread of ideas, and somewhere in the space between the marks we feel the motion of the hand as it creates the journey over the page.
Asemic Manuscript is on display through Friday, March 16, 2018 at Fenwick Gallery, and is open during the Fenwick Library's normal business hours. Fenwick Library is located on George Mason University's Fairfax campus, 4400 University Drive, Fairfax, VA.
About the Artist
Kate Fitzpatrick is an artist and educator from Alexandria, Virginia. She received her BFA in painting from Clarion University of Pennsylvania and her MA in Art education from the University of New Mexico. While attending George Mason University in the MFA program, Kate will continue to use art as a means to connect with community while developing themes that develop around identity and place.
Artist's Bookshelf: Recommended Readings
As part of each exhibition, our curators and artists work together to select materials from Fenwick Library's collections that relate directly or thematically to the works on display. See these selections in the gallery bookcase, or view them below: