Visiting Artist Helen Zughaib Initiates the Al-Mutanabbi Street Starts Here Program at George Mason University With a Lecture & Print Project: "Arab Song, Arab Spring"
September 7-12, 2015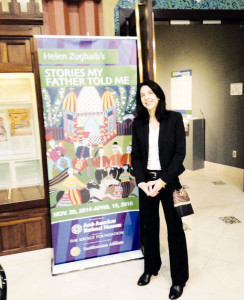 The School of Art is proud to announce that Helen Zughaib, internationally recognized artist based in Washington DC, will produce an original edition of prints for this season's Navigation Press during the week of September 7 to 12. Helen Zughaib will also be a guest lecturer on Thursday, September 10, 2015 for the School of Art's Visual Voices Professional Lecture Series in Harris Theater, 7:30 p.m.– 8:30 p.m. Her lecture is titled: "Arab Song, Arab Spring" and is free and open to the public.
As an Arab American, born in Beirut, Helen Zughaib feels that her background in the Middle East allows her to approach the experiences she has in America in a unique way, remaining an observer of both the Arab and American cultures. She believes that the arts are one of the most important ways to help shape and foster dialogue and positive ideas about the Middle East.
The School of Art's Navigation Press is honored to host Helen Zughaib as part of the "Al-Mutanabbi Street Starts Here DC" 2016 project, hosted by George Mason School of Art, Fenwick Gallery, and Provisions Libraries, in partnership with eight other distinguished partners. Al-Mutanabbi Street Starts Here DC 2016 is a book arts and cultural festival planned for January through March 2016, throughout the Washington DC area. Exhibits, programs, and events will commemorate the 2007 bombing of Baghdad's historic bookselling street, and celebrate the free exchange of ideas and knowledge, to stand in solidarity with the people of Iraq, who have endured so much; and with people at home and abroad who are unable to make their voices heard.
The screenprint Helen is creating will be published in an edition of 40 and is available to the public who are welcome to stop by the print studio, room 1009 in the School of Art and Design building to meet Helen and watch the printmaking process.
Read more about Helen Zughaib here.
Discover more about the Al-Mutanabbi Street Starts Here project here, and learn more about Al-Mutanabbi DC 2016 here.
Facebook page: Al-Mutanabbi Street Starts Here DC 2016
Contact Helen Frederick, hferedri@gmu.edu to volunteer or become involved in the project.