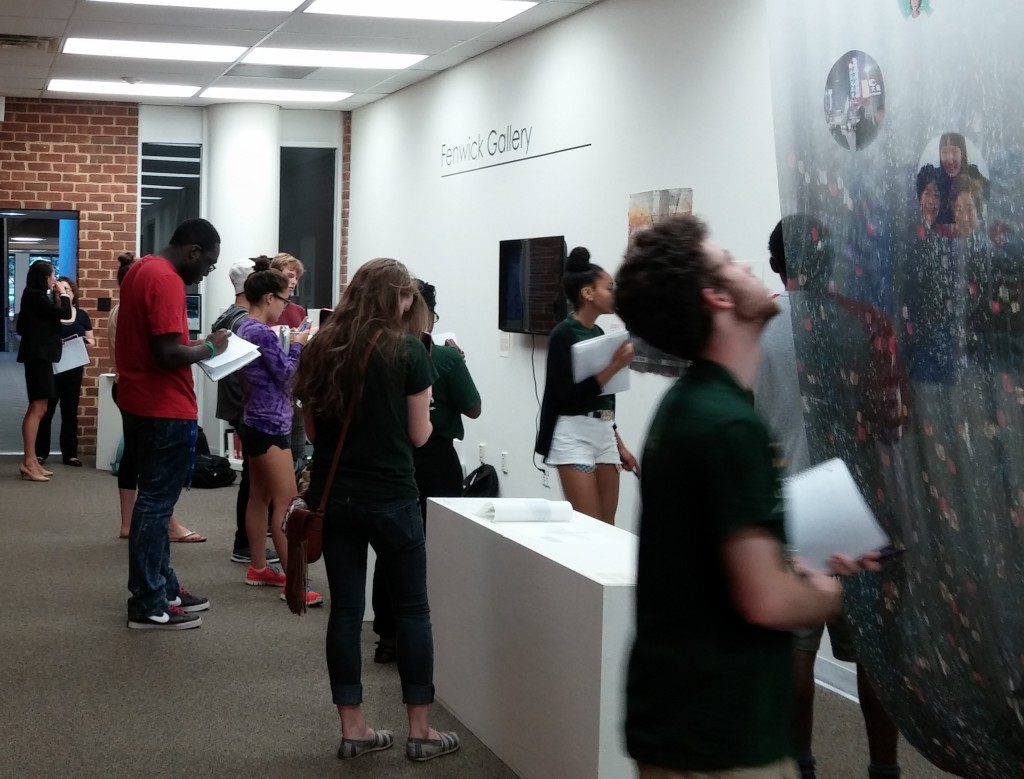 Today is the final day of the 6th annual

Call & Response:

In 24 hours everywhere the dawn rises again

. I asked curators Helen Frederick and Susan Tichy to give us some final thoughts about the show.
Anne Smith: Working together to put on a collaborative show such as Call & Response is a collaborative effort in itself. How would you describe your collaborative partnership? How did it come to be? 

Helen Frederick: Susan and I met over 7 years ago when I learned about her course "Book Beasts" and she learned about my course "Artist Books as Visual Language (now "Paper, Print and Books as Visual Language"). We were interested in sharing resources and students between our classes, and began to invite the students to show the works for final reviews in the School of Art print studio. The first true exhibition that we organized for the 123 Gallery located in the Johnson Center was called "Material Word". Our collaborative efforts were scaled to suit our artistic and writing interests in selecting the students, installing the works, titling the show and soliciting interested parties to join us from the campus, alumni and the public. This has continued to be a rich collaboration every year and the program/exhibition continues to grow in context and audience participation. It is a joy and always stimulating to work with Susan and her ideas, her students and also come to know more about her own writing and teaching pedagogy.
Susan Tichy: It's always a great experience collaborating with Helen. Our ideas are just similar enough, and just different enough, to create a fertile space in which to work. When our respective schedules allow, we also continue to bring our classes together for conversation and critique. In developing Call & Response over the years, enlarging participation and extending the length of the exhibit, the support of Fall for the Book also has been crucial. The festival is a perfect backdrop to the exhibit, and provides us with publicity as well as funding.
AS: Why do you think it is important that visual artists and creative writers be in dialogue with one another?
HF:
 Artists may stumble over or often are limited in words and writers are often unsure about expressing themselves visually. The Call and Response tradition is such a powerful means of communication. Underneath every collaboration, research seems to bubble up, a dance begins between the caller and responder, and new work is created that satisfies creative underpinnings for both parties. In fact Susan and I collaborated on three artist books ourselves for the Al-Mutanabbi Street Starts Here book exhibition now showing at the American University in Cairo. We experienced some of the same "catalytic" enjoyment and expansion of ideas found in professional collaboration that the students also experience and grow into new statements, forms, and accomplishments in their works. Because graduates, undergraduates, faculty and alumni are all in dialogue in this project, there is a very rich sharing of ideas that circulate and advance thinking for future creative work, along with expression of deep and valuable interpretive nuances that come forth in the panel discussions.
ST: For many of our writers and artists, Call & Response is their first experience in collaboration—especially across art forms—and their first glimpse back stage, so to speak, in another art form. They are excited to explore the creative process through another's eyes and to witness each other's work developing and taking form. More often than not, collaborators who had never met before we paired them feel as if they have found a perfect collaborator for this and perhaps for future projects.
Also, for writers, this is a chance to see how an exhibit is composed, how to work with a given gallery space and make the show more than the sum of its parts. Neither should we forget the long history of writers and artists taking formal, as well as thematic, inspiration from each other. Each year's show has a theme, which participants interpret as they wish, and we're always eager to see what they have been thinking about; but it's equally interesting to see how collaborators respond to each other's forms, methods, and materials.
AS: This is the first year that Call & Response is being exhibited in the Fenwick Gallery. What influence does this new context have on the Call & Response show? 
HF: YES I think the library has offered a very different context for the exhibition and that more students and visitors to the library are noticing and reflecting on the work, perhaps in a more serious way. Certainly the exhibition is accessible to many more and diverse audiences who are not distracted by other activities as they were, when entering Gallery 123 from the food court.
As the new library is completed I hope our exhibition will continue in a formal setting, and certainly we are very pleased for all the courtesies offered to us in regards to our exhibition and panel being part of the Fall for the Book programs being held in the Fenwick Library this year. It was so rewarding for the exhibition participants to have a large audience attend the panel this year and follow-up comments have been glowing in praise of the show and panel. I would not doubt that word about our efforts will be spread to more folks and hopefully attract some new participants for next year's program.
ST: Oh yes, I agree it is a tremendous change. It was challenging at first, to envision and design an exhibit for such a different space; but the library offers a larger and more diverse audience, with potential for great collaborations of a different kind. We've been working for several years with our resource librarians, Jenna Rinalducci in Art and Jen Stevens in English, to expand our students' awareness of what the library offers, particularly in Special Collections. And of course we're thrilled by the creation of the position you now hold, Anne! We look forward to discovering how we can work together with the whole library team. It was also great to have the exhibit up for a month, which allowed more faculty members to fold Call & Response into their syllabi and assignments. We have a few loyal colleagues who have sent their students to the exhibits for years, and we are always looking for new ways to reach out to faculty. I think the library setting will help build that community.