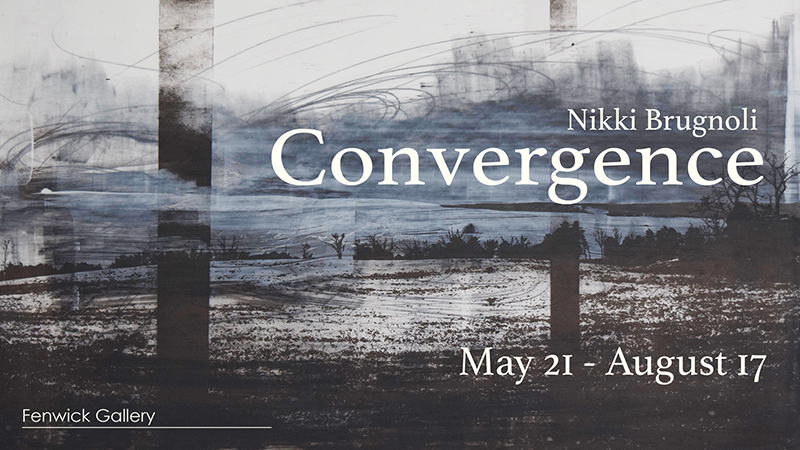 May 21 – August 17
Convergence focuses on the intersecting and overlapping lines of artist Nikki Brugnoli's research over the last four years in Virginia and Pennsylvania. Disregarded, post-industrial structures from her past and present as well as widening horizons converge through a series of mixed media drawings, screen prints and photographs. These investigations are engaged meditations on memory and loss, abandonment and reconciliation.
Artist's Statement
"The history of my work has been driven by observation and my fascination with contrast, color and surface, material manipulation, landscape, and ideas of absence, presence, the body and of memory. I have investigated loss. These are some of the primal things that make us human, and so it is the root to which I can connect my work to, beyond my own reach. I aim examine the opposites that exist in us all.
Over the last few years I have been intensely researching, revisiting and documenting post-industrial forms from both my past and my present; in an attempt to better understand ideas surrounding BELONGING. Abandoned beehive coke ovens from my youth outside of Pittsburgh, and an and abandoned silo on the farm where I live in rural Virginia have been my muses. The differences and similarities discovered inside of and around the forms is haunting and has led me on a widening path of insight and the creation of large, new bodies of work. In addition, I traveled to Athens, Greece this past summer, 2017 to begin research on the ancient ruins of the Acropolis and the ancient city of Delphi, looking closely at those civilizations and the forms remaining, buried, and unearthed.
The horizon, as an idea or actual form is the physical embodiment of reach, longing, expansion, and in many ways, the unattainable. It is a line – a horizontal pull through physical, atmospheric space. The horizon is always in sight but never within reach; the infinite and finite; the point where light meets dark. It beckons and draws me into the immediate present, while simultaneously stretching my memory and imagination for other places in time.
My work is an exploration into the transformative power of landscape, memory, time, and the ritual of daily observation through abstraction and the widening power of the horizon in its various forms. I seek to find mystery and presence through meticulous investigations of daily life, many of which are recorded digitally during my walks. My various approaches to seeing and recording are permutations and meditations, informed by my very specific history, growing up inside of a 5-mile radius in South Western, PA and currently living on a sprawling farm in rural VA where, through intentional, repeated, and widening circles, I map my spaces using careful selections of my photo documentation to record any changes that may occur from day to day, in an effort to translate those observations into my studio investigations."
About the Artist
Nikki Brugnoli (b. 1981 Pittsburgh, PA) received her BFA from Seton Hill University (2004) and her MFA from The Ohio State University (2007). She serves on the faculty at George Mason University and is the Assistant Graduate Programs Coordinator and Graduate Advisor in the School of Art. She is also the Coordinator of the Art Lab at the Lorton Workhouse, Lorton, VA currently serves on the Artist Advisory Committee for the IA&A at Hillyer, Washington D.C. and previously served as a Hamiltonian Mentor. Nikki has also taught at The Ohio State University, the Northern Virginia Community Colleges, and The Renaissance School in Charlottesville, VA.
Nikki's work is included in many private collections across the United States, and is featured in national academic and public institutions.
Reception / Artist's Talk
Wednesday, July 25, 1:30pm
Fenwick Library Main Reading Room (Room 2001)
George Mason University, Fairfax, VA
Recommended Reading