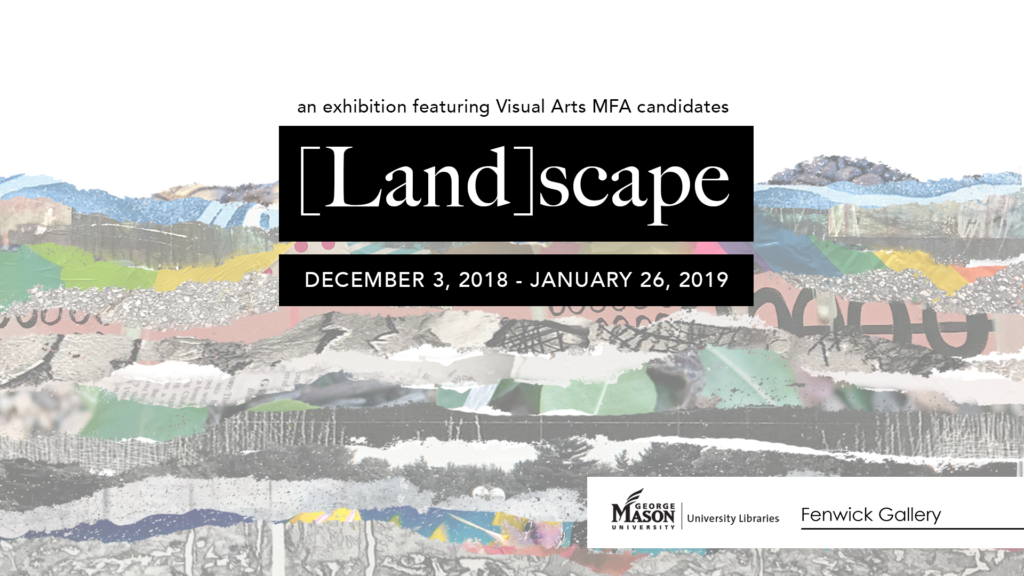 December 3 – February 1, 2019 – CLOSING EXTENDED
"An invisible landscape conditions the visible one"

Italo Calvino, Invisible Cities
Exhibition statement
What is a landscape? A scenic countryside? A long-standing tradition in art history? The distant backdrop of our lives and memories? In the exhibition [Land]scape, artists ask us to engage the notion of landscape on multiple levels. Some pull imagery directly from observed physical, natural, and built surroundings to construct narratives, comment on social, political, and environmental issues, or use landscape as poetic metaphor. Others explore the unseen spaces we navigate: the mind, dreams, fears, desires, the space between people, between the past and present, between here and there. Featuring a range of painting, mixed media, printmaking, sculpture, and video works, the exhibition itself becomes a landscape revealing a strata of emerging art practices within George Mason's Visual Arts MFA program.
[Land]scape is presented by Fenwick Gallery in partnership with ARTIFACT, a graduate student organization for MFA candidates in the GMU School of Art. ARTIFACT fosters connection, collaboration, and professional development within the MFA program and creates opportunities to share artists' work with the Mason community and greater Washington DC area.
The exhibition will run from December 3, 2018 – February 1, 2019, with a closing reception, performance, and artists' talk on Wednesday, January 23, 2019 at 5:00pm.
Contributing Artists
Jorge Bañales, Andrea Benge, Brigitte Caramanna, Danielle Dravenstadt, Kate Fitzpatrick, Emily Fussner, Kerry Hentges, Erica Hopkins, Strange Lens, Jennifer Lillis, Jayne Matricardi-Burke, Matt Nolan, Kevin Wallace, and Michael Walton
View the artists' biographies and statements
Reception and Panel Discussion
Closing Reception and Artists' Talk
Wednesday, January 23, 2019
5:00 – 7:00pm
Fenwick Library Main Reading Room (2001) | Fenwick Gallery
Parking:
The Rappahannock Parking Deck is closest to Fenwick Library and offers visitor parking.
Fairfax Campus Parking Map
Recommended Reading