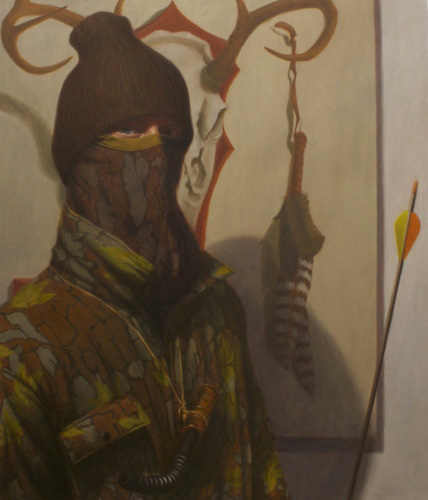 SELECTED BOOKS
Old, Weird America
by Greil Marcus
The Meaning of Wilderness
by Sigurd F. Olson
Heartland: The Life and Art of Bo Bartlett
by Glen Holsten
Andrew Weyth: A Secret Life
by Richard Meryman
STATEMENT
Whether they are about the sketch of an artist's life, a history of culture, or the value of wilderness, books often have both small and grand ways of influencing the works of art I make.
I have admired Andrew Wyeth and his paintings for a long time and his biography captures some of the mystic nature of his personal life that often seems present in his paintings. My painting, The Hunter, portrays some of the mystic behind the identity of the hunter, much like that of the artist. There is an ancient history associated with hunting and I am interested in how the cultural perception of the hunter has changed over time. It is similar to the change of cultural values and interpretations that Greil Marcus examines in his book, Old, Weird America. Marcus is interested in how contemporary folk musicians like Bob Dylan interpret and represent traditional folk music and how the context of the songs are interpreted differently throughout history.
The Meaning of Wilderness, explores the reasons for preserving wild places and access to undisturbed landscapes. Much like Olson's belief in preserving access to wilderness experiences, my painting portrays a person that is preserving and continuing the history of hunting and humankind's primeval relationship to nature.
BIO
Nathan Loda (b. 1989, Vienna, VA) is a contemporary realist painter that uses painting as a process for learning and engaging with history.  His paintings often start with a story about a specific ancestor he has researched and uses their story to create a new narrative.  The resulting painting portrays a unique look at often familiar history threw subjects such as toys, photographs, and heirloom memorabilia.
Loda is an MFA candidate at George Mason University in Fairfax, VA with an expected graduation in May, 2015.  He earned a BFA in Painting from Shepherd University in Shepherdstown, WV, in 2011. His work has been exhibited in several states across the country and is in numerous private collections.