From the ubiquitous red and white checks of Better Homes & Gardens New Cook Book to the amazing photography found in Modernist Cuisine, cookbooks are so much more than a collection of recipes.  Cookbooks provide insight into a culture, a region, a time period or a cuisine. They are timeless and completely outdated, often at the same time.  Sometimes they are not even books.
Highlighting the unique collection of cookbooks, Gastronomy in the Gallery is a brief tour of this distinctive cultural and social art form. The resources featured in the exhibit come from the circulation collection, rare and historical items from Special Collections & Archives, and the growing artists' books collection of the University Libraries.  We hope this exhibit inspires, educates, and even leaves you a bit hungry.
Highlights from the exhibit: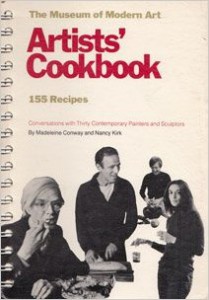 The Museum of Modern Art Artists' Cookbook: 155 recipes : conversations with thirty contemporary painters and sculptors by Madeleine Conway; Nancy Kirk; Museum of Modern Art (New York, N.Y.) Staff (Contribution by)
Call Number: TX715 .M963 1977
ISBN: 9780810920996
Publication Date: 1977-01-01
Details the recipes and the gastronomic habits of 30 artists, including Andy Warhol, Willem de Kooning, Roy Lichtenstein and Louise Bourgeois.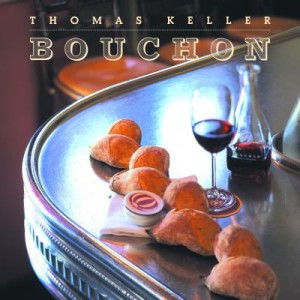 Bouchon by Thomas Keller; Jeffrey Cerciello (As told to); Deborah Jones (Photographer); Susie Heller (As told to); Michael Ruhlman (As told to)
Call Number: TX719 .B67395 2004
ISBN: 1579652395
Publication Date: 2004-11-15
Thomas Keller, chef/proprietor of Napa Valley's French Laundry, is passionate about bistro cooking. He believes fervently that the real art of cooking lies in elevating to excellence the simplest ingredients; that bistro cooking embodies at once a culinary ethos of generosity, economy, and simplicity; that the techniques at its foundation are profound, and the recipes at its heart have a powerful ability to nourish and please. Bouchon, the cookbook, embodies this cuisine in all its simplicity.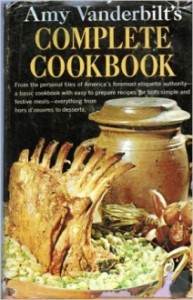 Complete cookbook. Drawings by Andrew Warhol. by Amy Vanderbilt, Andy Warhol (artist)
Call Number: TX715 .V27
Publication Date: 1961
Simple line drawings by Andy Warhol illustrate the the recipes described by etiquette expert Amy Vanderbilt.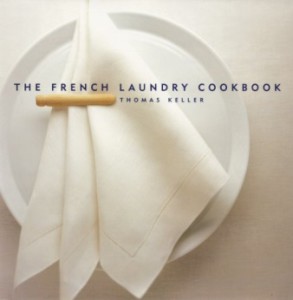 The French Laundry Cookbook by Thomas Keller; Deborah Jones (Photographer); Susie Heller (Contribution by); Michael Ruhlman (Text by)
Call Number: TX719 .K35 1999
ISBN: 1579651267
Publication Date: 1999-11-01
2014 marks the twentieth anniversary of the French Laundry restaurant in the Napa Valley. The cookbook celebrates this milestone by showcasing the work of chef/proprietor Thomas Keller in his first cookbook. One hundred and fifty recipes are exact recipes from the French Laundry kitchen--no shortcuts have been taken, no steps ignored, all have been thoroughly tested in home kitchens.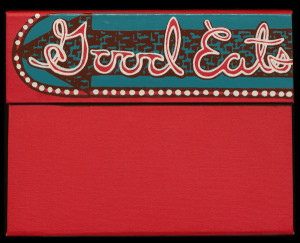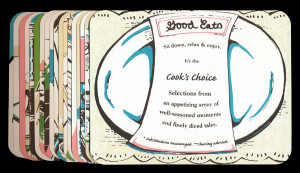 Good eats: Sit down, relax & enjoy. It's the cook's choice by Carissa Carman and Gretchen Hooker
Call Number: N7433.4.C367 G665 2005
Publication Date: 2005
From Women's Studio Workshop: "With its striking red portfolio case printed to reference a flashing marquee sign, Good Eats welcomes you to a roadside diner. Inside you'll find a place setting and 18 illustrated, loose leaf recipe cards. Through the sharing of imagery and personal accounts the functional recipe cards portray the intimate connection between food, place, comfort, and memory."
Joy of Eating: True Food Security & A Recipe for Disaster by Robin Bachtler Cushman
Call Number: N7433.4.C875 J69 2013
Publication Date: 2013
From the artist: "I explore the intersection between nature and culture thorough my art. The two have been entwined throughout history since early agriculture. This recipe file box contains photographs of local produce, gardens, farms, and markets—a celebration of the abundance of our local agriculture. This is true food security. This work also examines the role of herbicides and Genetically Manipulated Organisms (GMOs) in our food supply—through images and recipes filed under Disaster. Pictures from the dust bowl era and my own contemporary photos of big agriculture are included in the file labeled Disaster."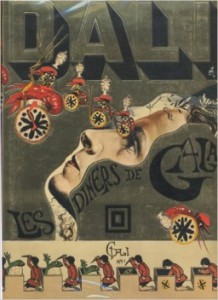 Les Dãiners de Gala by Salvador Dali
Call Number: TX725.A1 D2313 1973
ISBN: 9780960069217
Publication Date: 1973-01-01
Why do we eat toast for breakfast, and then toast to good health at dinner? What does the turkey we eat on Thanksgiving have to do with the country on the eastern Mediterranean? Can you figure out how much your dinner will cost by counting the words on the menu?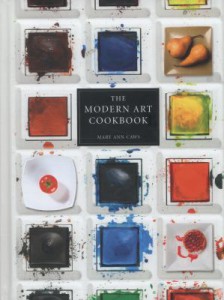 The Modern Art Cookbook by Mary Ann Caws
Call Number: TX714 .C39 2013
ISBN: 9781780231747
Publication Date: 2013-10-15
Matisse, Picasso, Hockney--they may not have been from the same period, but they all painted still lifes of food. Andy Warhol painted soup cans, and Claes Oldenburg sculpted an ice cream cone on the top of a building in Cologne. Food has always played a role in art, but how well and what did the artists themselves eat? Exploring a panoply of artworks of food, cooking, and eating from Europe and the Americas, The Modern Art Cookbook opens a window into the lives of artists, writers, and poets in the kitchen and the studio throughout the twentieth century. From the early modernists to the impressionists; from symbolists to cubists and surrealists; from the Beats to the abstractionists of the New York School, Mary Ann Caws surveys how artists and writers have eaten, cooked, and depicted food. She examines the parallels between the art of cuisine and the visual arts and literature, using artworks, diaries, novels, letters, and poems to illuminate the significance of particular ingredients and dishes in the lives of the world's greatest artists. In between, she supplies numerous recipes from these artists--including Ezra Pound's poetic eggs, Cezanne's baked tomatoes, and Monet's madeleines--alongside one hundred color illustrations and selections from poetry and prose.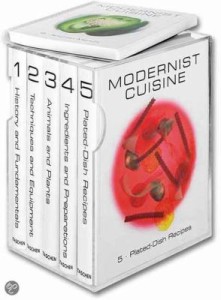 Modernist Cuisine by Chris Young; Nathan Myhrvold; Maxime Bilet
Call Number: TX651 .M94 2011 LIBRARY USE ONLY
ISBN: 9780982761007
Publication Date: 2011-03-14
Revealing the techniques used for preparing food which ranges from the otherworldly to the sublime, 'Modern Cuisine' is a six-volume guide for anyone who is passionate about the art and science of cooking.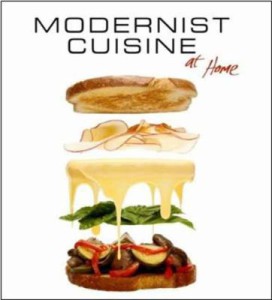 Modernist Cuisine at Home by Nathan Myhrvold; Maxime Bilet
Call Number: TX651 .M93 2012
ISBN: 9780982761014
Publication Date: 2012-10-08
The Cooking Lab, publisher of the encyclopedic six-volume set Modernist Cuisine, which immediately became the definitive reference for this revolution, has produced a lavishly illustrated guide for home cooks, complete with all-new recipes tailored for cooking enthusiasts of all skill levels. The authors have collected in this 456-page volume information needed to stock a modern kitchen, to master Modernist techniques, and to make hundreds of stunning recipes. The book includes a spiral-bound Kitchen Manual that reprints all of the recipes and reference tables on waterproof, tear-resistant paper. Drawing on the same commitment to perfection that produced Modernist Cuisine, Modernist Cuisine at Home applies innovations pioneered by The Cooking Lab to refine classic home dishes, from hamburgers and wings to macaroni and cheese. More than 400 new recipes are included, most with step-by-step photos that make it easy to bring dining of the highest quality to your own dinner table. The first 100 pages of the book are a trove of information, such as: how to test the accuracy of a thermometer, and why it's time to switch to digital; how to use (and not to use) a blowtorch to sear food fast and beautifully; how to marinate meats more quickly evenly by injecting the brine; the myriad uses for a whipping siphon beyond whipped cream; why those expensive copper pans may not be worth the price; how to deep-fry without a deep fryer; how to stop worrying and get the most out of your pressure cooker; how to cook sous vide at home with improvised equipment, a special-purpose water bath, or a home combi oven. Modernist Cuisine at Home is an indispensable guide for anyone who is passionate about food and cooking.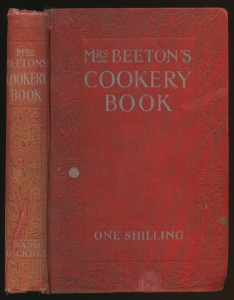 Mrs. Beeton's cookery book : all about cookery, household work, marketing, trussing, carving, etc. by Isabella Mary Beeton
Call Number: TX717 .B44 1913
Publication Date: 1913
Isabella Mary Beeton (nee Mayson), born in Cheapside, London on March 12, 1836. She and her husband Samuel Beeton were a prolific writing and publishing team.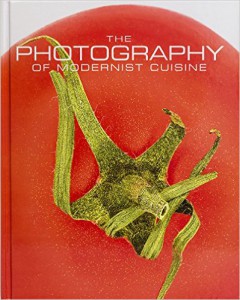 The Photography of Modernist Cuisine by Nathan Myhrvold
Call Number: TR656.7 .M94 2013 LIBRARY USE ONLY
ISBN: 9780982761021
Publication Date: 2013-10-22
Nathan Myhrvold and The Cooking Lab redefined what a cookbook can be with 'Modernist Cuisine' heralded by the James Beard Foundation as Cookbook of the Year and a once-in-a-lifetime publishing event for anyone who is passionate about food and cooking. Now the same team has produced 'The Photography of Modernist Cuisine', a feast for the eyes that serves up the beauty of food through innovative and striking photography. Simple ingredients, eclectic dishes, and the dynamic phenomena at work in the kitchen are transformed into vivid art.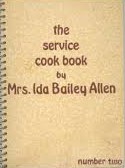 The Service Cook Book No. 2 (200 cooking tricks, 700 recipes) by Ida Bailey Allen
Call Number: TX715 .A44328 1933
Publication Date: 1933
Ida Bailey Allen was known as "the nation's homemaker." She was an editor at Good Housekeeping and wrote the column "Three Meals a Day." Allen also hosted National Radio Home-Makers Club on CBS network, which offered recipes and cooking lessons.
*Unless noted otherwise, all descriptions are adapted from publishers.
**Featured image by Meaghan O'Malley