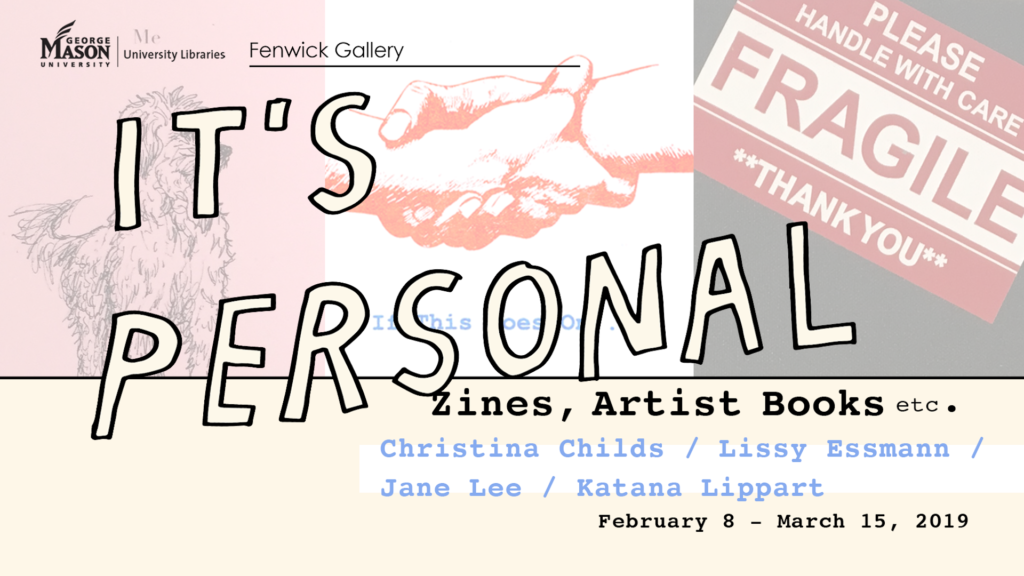 February 8 – March 15, 2019 
About the Exhibition
In "It's Personal," the artists use the unique qualities of sequencing, format, and multiples that zines and artists' books allow as way to explore and share with a wide audience their interests, perspectives, longings, and questions.
The risograph-printed zines of Christina Childs (MA Graphic Design, 2019) offer bold, simple pairings of text and image that ask "what if" questions on both the personal relational scale and the societal level, delivering some surprisingly poignant punches. Lissy Essmann (BFA concentration Graphic Design, 2019) processes her own anxieties and life circumstances through making zines that can connect with other people. Using a hand-drawn illustration style and children's book approach to the narrative, she translates somber themes into a consistent, calm, and somehow comforting result. Jane Lee (BFA concentration Sculpture, 2019) addresses the complexities of relationships, culture, identity, and even art school in her text-based zines comprised of often humorous and all-too-relatable internal dialogue, notes, and quotes. Katana Lippart (BFA concentration Printmaking, 2018) explores notions of self, memory, uncertainty, and home through collage, printmaking, zines and artist books. Though stemming from her own personal history, the construction of the books and their altered yet familiar imagery resonates with viewers, calling forth their own memories and experiences.
The exhibition will run from February 8–March 15, 2019, with an artists' talk in the Special Collections Research Center of Fenwick Library on Wednesday, February 27, 2019 at 3:00pm.  
Contributing Artists Biographies & Statements
Christina Childs / Lissy Essmann / Jane Lee / Katana Lippart
Artists' Talk
Artists' Books Open House & Talk
Wednesday, February 27, 2019
3:00pm
Fenwick Gallery | Special Collections Research Center (2001)
Parking:
The Rappahannock Parking Deck is closest to Fenwick Library and offers visitor parking.
Fairfax Campus Parking Map
Recommended Reading