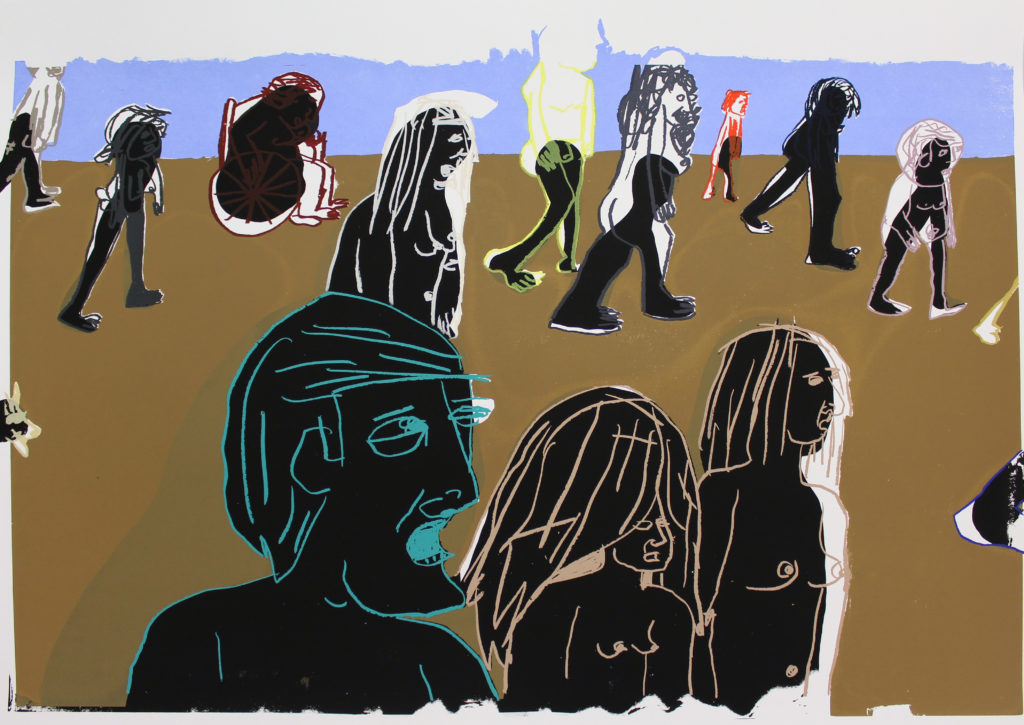 May 8 – August 11, 2017
Navigation Press is a master printmaking residency within the School of Art (SOA) at George Mason University, established in 2006 by Helen Frederick and Harold Linton. Each year, a visiting artist spends a week in the print studio with students and a master printmaker to complete a limited-edition print, while also participating in lectures, workshops, and critiques. While many are master printmakers themselves, the visiting artists of Navigation Press have represented a variety of artistic backgrounds and media, including painting, sculpture, book art, and zines.
"Process Logs" highlights five Navigation Press artists and their completed prints, as well as the often-invisible practices behind the finished work. The exhibition also introduces the many behind-the-scenes printmaking collaborators who made these works possible.
Participating artists
Beauvais Lyons
Enriqué Chagoya
William T. Wiley
Renée Stout
Louis Schmidt
The artistic process is often perceived as a solitary act, with an artist independently researching, developing, and executing their ideas. However, the studio or atelier model is a longstanding tradition in the history of printmaking. Students learn from working alongside contemporary masters, gaining hands-on experience in the production of large editions. Meanwhile, the master printmaker supports the artists in translating their artwork and ideas into prints, which may include screen printing, lithography, digital printing, and etching.
Visitors will have an opportunity to see the artifacts of various stages of the printmaking process, including original printing plates, multi-layered transparencies, and preparatory sketches.
"Process Logs: Prints, Plates, and Sketches from Navigation Press at Mason" will be on exhibition in the Fenwick Gallery of George Mason University from May 8 through August 11, 2017. The gallery is located on the first floor of Fenwick Library on Mason's Fairfax campus. Visitors may find nearby parking in the Rappahannock Deck.
(more…)