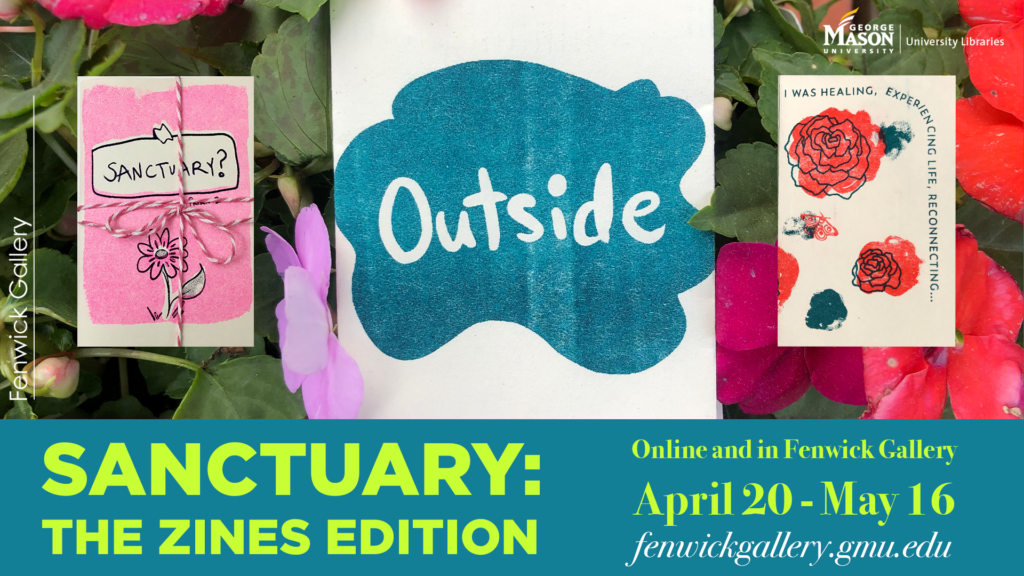 April 20 – May 16, 2021
About the exhibition
Sanctuary: The Zines Edition features the work of students in the Mason School of Art "Zines and Self-Publishing" class, led by Emily Fussner. This exhibition is held in parallel with a larger exhibit, Sanctuary, organized by artists and arts management students at Mason. Students considered to a single question, "What does sanctuary mean to you?," and responded with these intimate works that invite readers into personal, sometimes vulnerable spaces while also offering comfort and connection. The zines are exhibited in a hybrid virtual/physical space, with copies on display in Fenwick Gallery and online. Printable versions of each zine are included, allowing viewers to keep their own, personal copy of each work.
Sanctuary: The Zines Edition is curated by Fenwick Gallery GRA Andi Benge, with exhibition support from the Art and Art History Librarian, Stephanie Grimm.
Curator's Statement
What does sanctuary mean to you?
Is it a space, a place, a time, or something more tangible? These differences, highly personal, are apparent in this exhibition of zines, organized in conjunction with Emily Fussner's "Zines and Self-Publishing" class. The participating students share an intimate look into their own sanctuaries, offering connections to each through an honest reflection of their safe spaces. This openness and vulnerability is especially resonant in times where connections with each other are kept at a distance.
The idea of a safe space is crucial to creativity, that the vulnerability of ideas and emotions are protected even while put on display. This exhibition in Fenwick Gallery, in partnership with the Miniature Mobile Museums of Contemporary Art (MMMoCA), aims to do just that. The zines are exhibited through a protective barrier, offering safety for both the viewer and the maker, while their digital counterparts can be viewed (and even printed) from the security of home (or your own sanctuary). While encouraging interaction through online viewing, we also navigate and meld physical and digital spaces as the world opens back up.
The "Russian doll" effect of these nested spaces also emphasizes the role of institutions as a kind of context, calling attention to the way each frames our interactions with art and ideas. Printed copies of the student zines are housed in MMMoCA's miniature museums and installed in Fenwick Gallery, which is housed in Fenwick Library, located on the campus of George Mason University. Digital editions of the zines, including downloadable and "print-at-home" copies, are displayed on Fenwick Gallery's website, organized and viewed alongside other zines as well as previous exhibitions. How do we look at objects in a museum space versus a library gallery? What if these zines were on the shelves of the library itself? What does it mean to look at zines in an academic space, with the critical perspectives of both artists and scholars?
These institutions are an evolving, enveloping sanctuary, entrusted with the care of these small tangible objects. They are also barriers, restricting or redirecting our ways of seeing and thinking. In this protective, protected space, we consider how we can evolve and connect to each other as artists, but also as a community.
NOTE: This exhibition is shown in parallel with Sanctuary, an exhibition organized by a group of artists and arts managers at Mason working with curator Emma Balázs. Students in Emily Fussner's class responded to the exhibition prompt offered in the Sanctuary open call, with many departing from its original themes of nature to explore other ideas of sanctuary.