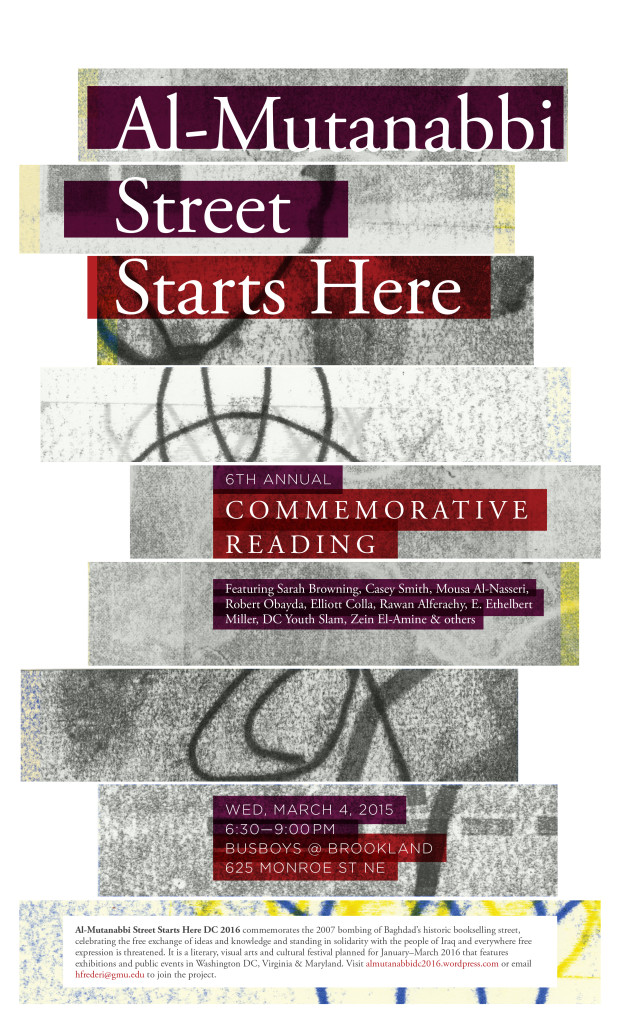 Head over to Busboys & Poets on Monroe St. NE this March 4th for a vivid and moving reading of poetry and prose from the Middle East and North Africa, in commemoration of al-Mutanabbi Street. This is an event not to miss! Free and open to the public. More info here:
(Washington, DC)— Al-Mutanabbi Street Starts Here: Commemorative Readings reflects upon the 8th anniversary of the bombing of al-Mutanabbi Street in Baghdad, Iraq.
On March 5, 2007, a car bomb exploded on Baghdad's al-Mutanabbi Street, the legendary center of the city's literary and intellectual community, famous for its enormous selection of books in various languages and subjects. The blast killed 30 people and wounded more than 100.
A coalition of partners is coordinating Al-Mutanabbi Street Starts Here DC 2016 as a book arts and cultural festival planned for January through March, 2016, throughout the Washington, DC area. Exhibits, programs, and events will commemorate the 2007 bombing of Baghdad's historic bookselling street, celebrating the free exchange of ideas and knowledge and standing in solidarity with the people of Iraq and everywhere that free expression is threatened.
Commemorative readings by: Sarah Browning, Casey Smith, Mousa Al-Nasseri, Robert Obayda, Elliott Colla, Rawan Alferaehy, E. Ethelbert Miller and others.
In advance of that project, readers draw on their own experiences to speak about the value of a free exchange of ideas and knowledge.