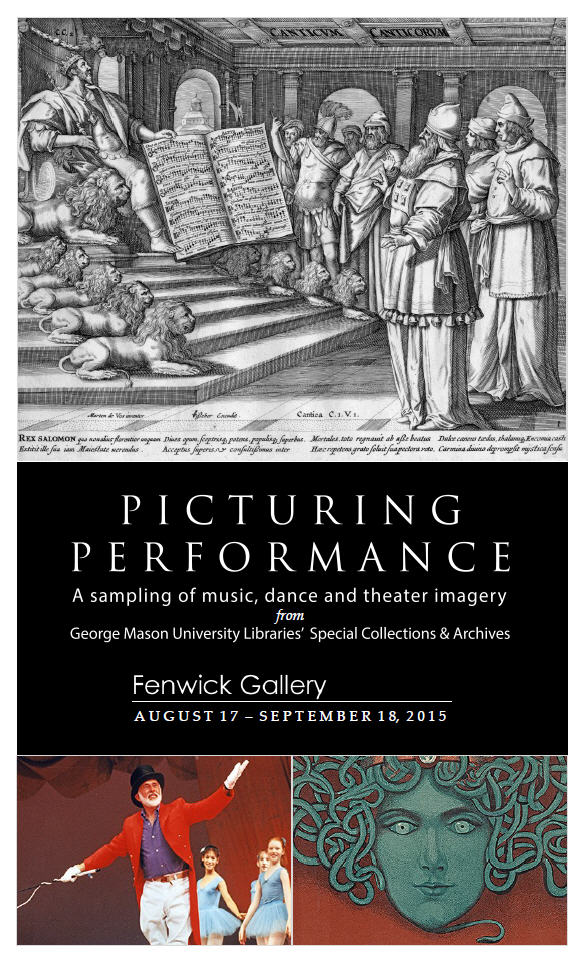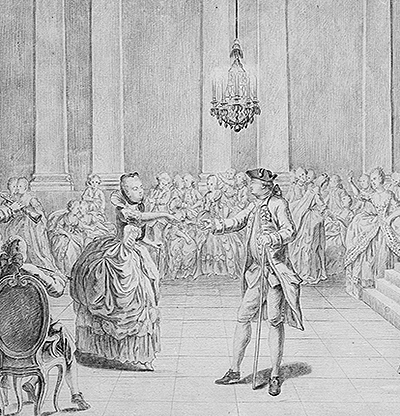 La Menuet De La Cour attributed to Le Couteur
ca.1775
Pencil Drawing Original size: 16 x 20.5 inches
Special Collections + Archives
Performing Arts Graphic Material C0215
The minuet was an elegant couples' dance, performed under watchful eyes, one pair at a time, in aristocratic ballrooms from approximately the mid-17th century and throughout the 18th century. The dance developed in France but was rapidly emulated throughout Europe and even in American colonies. In 3⁄4 time, the minuet consisted of small, graceful steps taken at ceremoniously slow tempos – the dancers thus embodied etiquette and courtesy.
This image seems to catch the couple at the start of their minuet, with the woman mid-curtsy. Two nobles sit on a throne to the right, an audience surrounds the dance floor. and musicians are seen to the lower left. One woman in the crowd even seems to be showing the counts to the minuet via hand signals, possibly leading the young lady dancer in her steps.
The setting of this image is an unidentified 18th century French court – some of the fashion clues suggest a distinctly French style – large, bouffant skirts, long overcoats, and high collars.
Dancers and Musicians in a Country Setting by Jean Jacques de Boissieu
1736 – 1810
Etching
Original size: 11 x 14 inches
Special Collections + Archives
Performing Arts Graphic Material C0215
Jean Jacques de Boissieu (1736-1810) was a French etcher and engraver, popular for his etchings and prints of landscape and countryside settings.
This print portrays several groups of people of varying social status, engaging in leisure activities on the grounds of a country church, perhaps during the celebration of a feast day. Two string players and a woodwind player, surrounded by a small audience, perform under a canopy in the upper left hand corner. Down the hill, a couple dances to a bagpiper before onlookers, while to the right, a man kicks up his heels to the music of a performer playing some type of woodwind instrument (likely a recorder). The artist's very casual lines do not provide the detail by which the instruments can be clearly identified; this was not his purpose.
Boissieu spent most of his life in Lyon, where he studied at the École Gratuite de Dessin. This specific etching (signed "JJ B 1773" in lower left hand corner) is likely of the countryside of Lyon, although Boissieu is also known for rendering images of the Roman and Dutch countryside during his travels.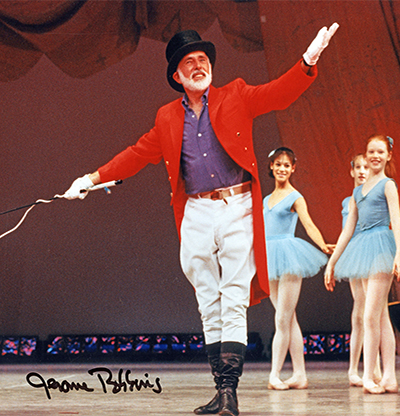 Circus Polka by Costas 
1972 
Color Photograph
Original size: 12 x 14 inches
Special Collections + Archives
Performing Arts Graphic Material C0215
In 1942, Igor Stravinsky composed Circus Polka for a Young Elephant  in response to a request from choreographer George Balanchine, who had been asked by Ringling Brothers Barnum & Bailey Circus to create a dance for elephants and ballerinas. Under the big top at Madison Square Garden, the unusual work was duly premiered by fifty pairs of  human and animal performers, all wearing pink tutus, to great audience hilarity.
Thirty years later, legendary choreographer-director-producer Jerome Robbins (1918-1998) refashioned the four-minute musical piece as a less ponderous and more adorable vehicle for himself, in the role of a circus ringmaster, and 48 youngsters from the School of American Ballet. This new version of Circus Polka was premiered during New York City Ballet's Stravinsky Festival in June, 1972 and has been revived regularly. Subsequent dance luminaries such as Mikhail Baryshnikov have danced the ringmaster' part, herding newer generations of young ballerinas through their paces at the theatrical crack of a whip.
The color photograph was taken by Costas (1972) and is signed by Robbins.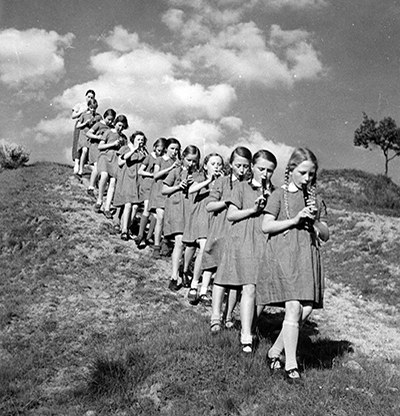 Hitler Youth 
Photograph
Original print size: 8 x 10 inches
Special Collections + Archives
Performing Arts Graphic Material C0215
The happy innocence of girls filing down a hillside while intently playing recorders resonates ironically against their ominous identification as Nazi-era Hitler youth. Based on the apparent ages, these might be new members of the Jungmädelbund (JM), or "Young Girls League" for ages 10-14, who have not yet passed the fitness-and-bravery challenge that entitled them to wear white blouses with a special black neckerchief and leather knot.
In 1933, all other German youth groups, such as Scouts and Wandervogel (hiking clubs) were banned. Membership in JM (and other Hitler youth clubs) was voluntary at first, but by 1936 was required for all ethnically German children except "undesirables." Groups of JM girls met twice each week for recreation, instruction in home economics, and political indoctrination: midweek gatherings were at local Party headquarters, while weekends featured camping and sports.
The musical education of German children was heavily influenced by the groundwork of composer and pedagogue Carl Orff and his collaborator Gunild Keetman, who introduced the learning and playing of recorders in the 1920s.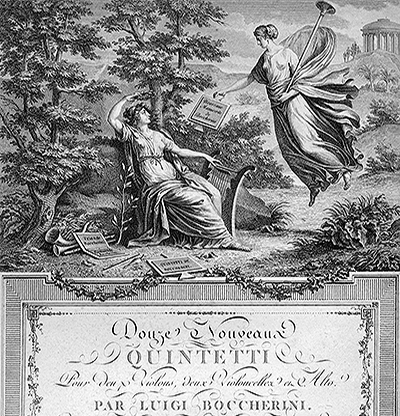 Douze Nouveaux Quentetti pour Deux Violons, Deux Violon- celles et Alto by Charles-Nicolas Richomme
1750?- 1820?
Engraving
Original size: 13.5 x 10.5 inches
Special Collections + Archives M551 .B66 Q7 1798
Luigi Boccherini (1743-1805) was one of the most celebrated Italian composers of the Classical era, especially noted for his ensemble works for strings.
For the cover of the first edition of Boccherini's Twelve Quintets, op. 37 (Douze Nouveaux Quintetti), the engraver Richomme (probably Charles-Nicolas Richomme, 1750s-1820s) depicts a heavenly muse or angel delivering "new manuscripts by Boccherini" to an earthbound female musician, seated languorously in an arbor, with musical scores by Boccherini and instruments strewn casually about. Both figures are dressed in classical Greek garb, and a small temple-like structure is seen on a distant hilltop, perhaps symbolizing Mount Parnassus, home of the Muses.
Illustrated sheet music covers featuring detailed artwork could increase a work's marketability and, in this case, signify the esteem and "mythic" status accorded to the composer and perhaps by extension, flatter the cultivated taste and classical erudition of the purchaser.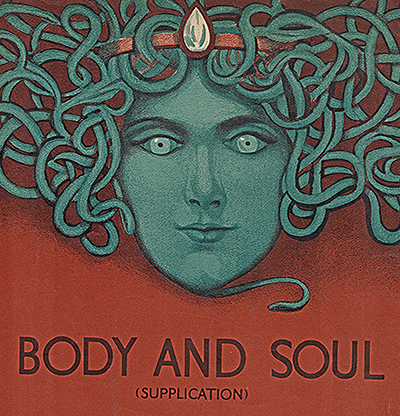 Body and Soul by Maximilian A. Rasko
1930
Lithograph
Original size: 9 x 12 inches
Special Collections + Archives
M1621.G74 B64 1930
"Body and Soul" (music by John W. Green and lyrics by E. Heyman, R. Sour, and F. Eyton) was composed in 1930 for British stage actress Gertrude Lawrence, and first performed in the United States soon afterward by torch singer Libby Holman. The song is now the single most-recorded instrumental jazz standard of all time, beginning with Louis Armstrong (and at least ten other groups) in its first year.
For the first edition sheet music cover, Hungarian–born American illustrator and portrait artist Maximilian Rasko (1883-1961) created an arresting image of Medusa, the once-beautiful, then-hideous female monster of mythology whose gaze turned men to stone. The inspiration for this choice is up for speculation. A reasonable connection could be made to the desperate sentiments of the song's forlorn narrator, who throws herself "body and soul" (scandalously so,  for the 1930s) at the man of her desires – only to meet with cold, stony rejection.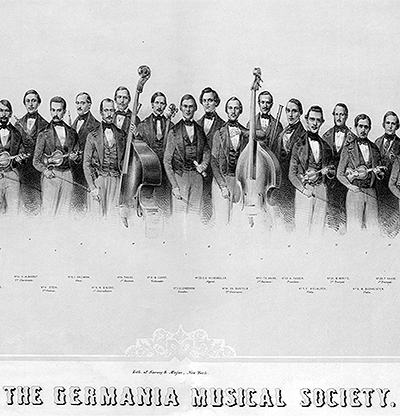 The Germania Musical Society by Sarony & Major
ca. 1850
Portrait Lithograph
Original size: 18 x 27 inches
Special Collections + Archives
Performing Arts Graphic Material C0215
The Germania Musical Society was a classical chamber orchestra of professional German musicians which gave successful concert tours throughout the major cities of the northeastern United States from 1848 to 1852. The group settled in Boston, where they survived as a musicians' cooperative and performed regularly until disbanding in 1854.
Giving many American audiences their first hearing of a well-disciplined ensemble whose playing surpassed that of American theater orchestras of the day, the Germania Musical Society's repertoire ranged from dance arrangements and potpourris to opera overtures and movements from symphonies.
Napoleon Sarony and James Major were illustrators, photographers, and lithographers who formed a prosperous lithography studio in New York City in the early 1840s. Producing souvenir images and cabinet cards of theatrical performers, musicians, and celebrities in general was their stock-in-trade. They carefully identified every musician in a legend below the group portrait.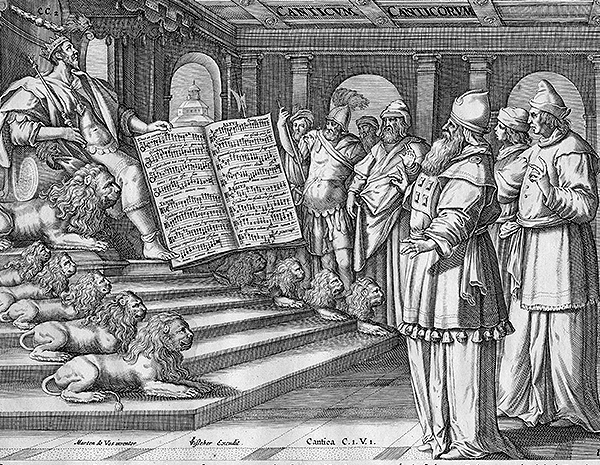 Osculetor Me Osculo Oris Sui by Claes Janszoon Visscher
1587–1652
Engraving
Original size: 8.25 x 10.25 inches
Special Collections + Archives
NE671 .J6 V58 1610
This artwork by Dutch engraver and mapmaker Claes Janszoon Visscher (1587-1652; also known as Piscator) depicts Biblical King Solomon enthroned before a retinue of priests and singers who perform a motet (a short, unaccompanied, sacred work for multiple voices). It reproduces an earlier drawing or painting, no longer extant, by Visscher's compatriot Maarten de Vos (1532-1603). It is an example of a Bildmotett, or "picture-motet" wherein the illustration of a religious subject includes accurate, performable music notation. This late-Renaissance print genre by visual artists was a precursor to the emergence of printed musical scores engraved by music specialists.
The motet is by Flemish composer Andreas Pevernage (1543-1591) and is a setting for five voices, in white mensural notation, of a short text in Latin from the Canticle of Canticles (Song of Solomon): "Let him kiss me with the kiss of his mouth: for thy breasts are better than wine…" Only four parts are notated; the superius or treble at upper left is meant for two voices in canon. The Latin text at the bottom of the print describes the glories of King Solomon.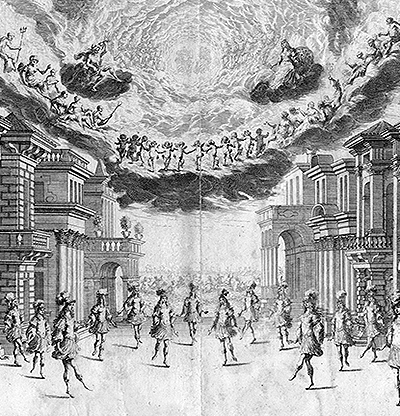 Il Pomo D'Oro by Mattias Küsel
1629–1681
Engraving
Original size: 10 x17 inches
Special Collections + Archives
Performing Arts Graphic Material C0215
Il Pomo d'Oro (The Golden Apple) by Antonio Cesti (1623-1669) was the epitome of lengthy Baroque op- eratic spectacle. Based on the myth of the Judgment of Paris (wherein the mortal Paris judges a beauty contest between competing goddesses, and, by re- fusing one of their bribes, initiates the Trojan War), the opera runs eight hours over two nights and in- volves 100 roles plus choruses and extras. It was com- missioned for the 1666 wedding in Vienna of Holy Roman Emperor Leopold I and Princess Margherita Teresa of Spain, but not premiered until 1668. Befit- ting royalty, no expense was spared in the produc- tion.
Theater architect and stage designer Lodovico Bur- nacini (1636-1707) built Vienna's first opera house for this occasion and provided the set designs for the opera's two dozen elaborate scenes. No such occa- sion would be complete without expensive souvenir pictures to remember it by; master engraver Mattias Küsel (1629-1681) shrewdly created over 40 different luxury-edition prints from Burnacini's designs. Here, dancers in a seaside street flanked by two-story apartment facades perform beneath a painted sky full of celestial beings.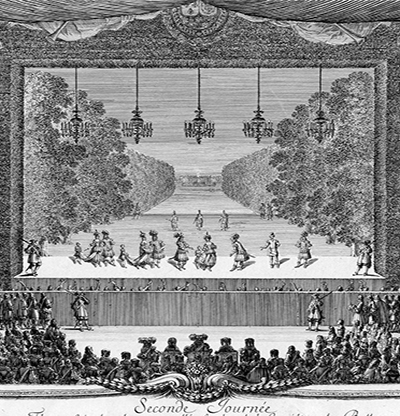 La Princesse D'Elide by Israel Silvestre
1621-1691
Engraving
Original size: 11.5 x 17 inches
Special Collections + Archives
Performing Arts Graphic Material C0215
"Sun King" Louis XIV commissioned playwright Moliere (Jean-Baptise Poquelin, 1622-1673) and composer Jean-Baptiste Lully (1632-1687) to collaborate on a production. Their joint venture resulted in La Princesse d'Elide, a comédie galante mêlée de musique et d'entrées de ballet (courtly comedy inter- spersed with music and dance numbers).
The spectacle humorously represents the struggles and surprises of affection between men and women, with the princess of the title being ultimately transformed from cold and indifferent to warm and accepting. It was presented in an elegant, specially-constructed, but temporary, wooden building in May, 1664. No permanent theater was built at Versailles until 1681.
Draftsman and printmaker Israel Silvestre (1621-1691) produced this engraving in 1773 as part of a series documenting the Versailles palace complex. In the foreground of the image, the king and his retinue sit front and center: best seats in the house during sev- eral days of theatrical festivities honoring Queen Anne of Austria and Louis XIV's wife, Maria Theresa.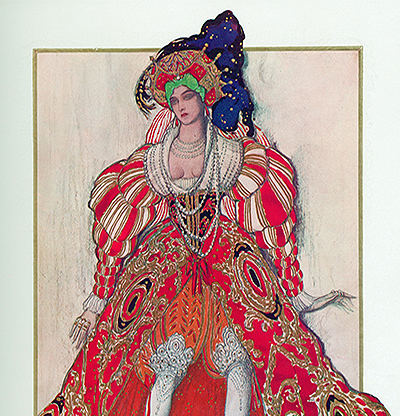 Potiphar's Wife by Léon Bakst
1866–1924
Lithograph
Original size: 13 x 10.25 inches
Special Collections + Archives
GV1787.B7 1922
Léon Bakst was a Russian painter and designer associated with Sergei Diaghilev's Ballets Russes in Paris, and the major figure in the application of art nouveau design concepts to the stage. In particular, this drawing shows Bakst's concept for the costume of Potiphar's wife in the production of Le Legend de Joseph (the biblical story of Joseph). It depicts the woman who attempted to seduce the modest and virtuous Joseph, and then had him thrown in jail when he resisted. This 1914 ballet, with music by Richard Strauss (op. 63) and choreography by Michel Fokine, is set in Egypt circa 1600 BC. It is unlikely that the original seducer was so flamboyantly attired!
The source for this image, Collection des Plus Beaux Numéros de Comœdia Illustré et des Programmes Consacrés aux Ballets & Galas Russes…1909 –1921 is a 380-page limited edition, compiled by the Ballets Russes' program publishers, Maurice and Jacques de Brunoff. This work vividly documents this famous ballet company (which also premiered Igor Stravinsky's Firebird, Petrushka, and Rite of Spring).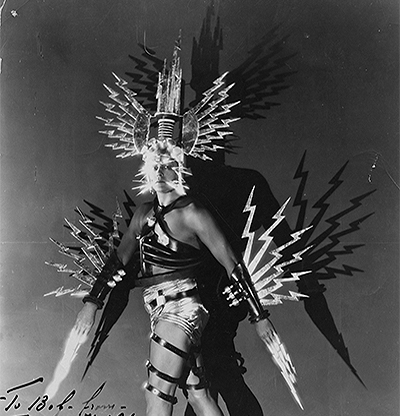 Electricity by Unknown Artist
Photograph Original size: 9 x 7.25 inches
Special Collections + Archives
Performing Arts Graphic Material
C0215
"Electricity" is an unusual example of Art Deco costume design. This publicity still shows Theodore Kosloff (1882-1956) dressed for a production number in the MGM musical film Madam Satan (1930), an improbable story set in a dirigible floating above New York City. Directed by Cecil B. DeMille, the film's plot involves a masquerade ball at which a woman, suspicious of her husband's fidelity, poses as a temptress to test his resolve (and her own allure). The gaiety ends when a thunderstorm destroys the dirigible, but all parachute safely into Central Park.
The film's costumes were designed by Gilbert Adrian (1903-1959), who was then head of DeMille's ward- robe department. The movie was a total flop, but Adrian went on to develop a successful couture business while continuing to design for stage and film including the classic The Wizard of Oz (1939). In 1961, Adrian received a posthumous Tony Award for his costumes for the Broadway musical Camelot.
"Electricity" was actor-dancer Kosloff's last onscreen role. He opened a ballet school in Los Angeles and continued to choreograph for films, the last of which was DeMille's The Ten Commandments (1956).